The boy on the beach: migrant crisis 'worsening' one year after Aylan Kurdi's death
Comments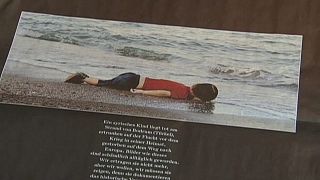 On the anniversary of the death of Aylan Kurdi, the United Nations High Commissioner for Refugees (UNHCR) has declared 2016 the deadliest year for migrants.
Speaking at a press conference in Geneva, spokesperson for UNHCR William Spindler has said that the death toll
He said: "UNHCR estimates that since Aylan's death, 4,176 people have died or gone missing on the Mediterranean, an average of 11 men, women and children perishing every single day over the last 12 months."
Aylan Kurdi died in 2015 while trying to escape war-torn Syria with his family – only his father survived.
#AylanKurdi#OmranDaqneesh. What ?!! Innocence are not going to change their minds. pic.twitter.com/axQWCpfasX

— biglatest (@biglatest_net) August 23, 2016
The photographs of Aylan Kurdi's lifeless body highlighted the plight of refugees, and sparked widespread debate – particularly in Canada, where Aylan Kurdi's family intended to settle.
On Friday in London, demonstrators took to the street to mark the anniversary of his death, calling on the British government to act on the worsening crisis.
The images that opened the world's eyes
In the early hours of September 2, 2015 Aylan Kurdi and his family boarded a small inflatable boat in Turkey, hoping to eventually reach Canada after making their way through Europe via the Greek island of Kos.
16 people wear crammed into the vessel – which was designed to fit only eight.
It sank about five minutes after leaving Bodrum.
Masih ingatkah sahabat pada foto Aylan Kurdi ?#LetsHelpSyriapic.twitter.com/MiWYtUScVG

— Aksi Cepat Tanggap (@ACTforHumanity) August 21, 2016
Syrian radio reported that the family had paid $5,860 for their four spaces on the five-meter long boat, and Aylan's father stated that the were give "fake" life jackets.
The toddler's body was discovered by locals at around 6.30am along with that of another child on a beach near to Bodrum.
Turkish journalist Nilüfer Demir was on the beach that morning, and took the pictures that prompted international outcry.
On 2 Sept. 2015 Aylan Kurdi was found dead in Bodrum. After him, thousands #refugees drowned in the Mediterranean pic.twitter.com/zDia2ZzAnY

— Valerio De Cesaris (@ValerioDeC) September 2, 2016