Trump defends call for Mexico border wall - Pena Nieto refuses to pay
Comments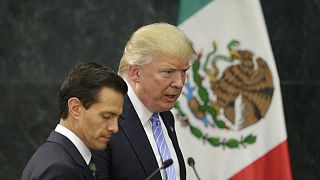 Donald Trump has defended his call for a wall on the Mexican border to halt illegal immigration, during a surprise visit to meet Mexico's President Enrique Pena Nieto. Significantly the US Republican presidential candidate said he did not bring up his demand that Mexico should pay the bill.
"We recognise and respect the right of either country to build a physical barrier or wall on any of its borders to stop the illegal movement of people, drugs and weapons. Co-operation towards achieving this shared objective, and it will be shared – of safety for all citizens is paramount," said Trump after talks with the Mexican leader.
However according to reports Pena Nieto the cost of the wall did come up during their private talks.
The Mexican leader claimed he had categorically refused to pay.
Al inicio de la conversación con Donald Trump dejé claro que México no pagará por el muro.

— Enrique Peña Nieto (@EPN) August 31, 2016
Contradicting Trump, Mexican president says he made it clear Mexico will not pay for a border wall https://t.co/TwpDqueOtm

— Los Angeles Times (@latimes) August 31, 2016
President President Pena Nieto also stressed that Mexican undocumented immigration into the US had peaked 10 years ago, and has been consistently decreasing and was therefore less of a problem for the US.
The invitation by Peña Nieto to Trump has stunned many, given the anxiety that the billionaire's campaign has caused the Mexican government over the past year.
Trump has called Mexican illegal immigrants "rapists and criminals", vowed to build that controversial wall along the Southern border, and threatened to undo the North American Free Trade Agreement.
For his part Peña Nieto has likened Trump's rhetoric to that of Adolf Hitler and Benito Mussolini.
In the end Trump left Mexico without excusing his derogatory remarks, or softening his stance, however he did declare the trip a success, even describing the Mexican leader as "a friend".