Security beefed up as pupils return to school in France
Comments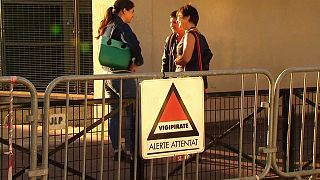 It is back to school in France and, this time, with heightened security.
Pupils return to class after a summer marked by the deadly truck attack in Nice and the murder of a Catholic priest in Normandy, for which Islamist militants claimed responsibility.
The French government says it's beefing up security across the country – but that's being questioned.
"This morning the conversation I had with the headmaster shows that there is a lingering anxiety," said Olivier Dosne, Mayor of Joinville Le Pont.
"We don't have the feeling that measures by our politicians are being implemented equally over our territories and that it is up to the mayors."
At one school in Joinville Le Pont, parents are no longer allowed onto the school grounds as part of extra security measures. There is also a local police patrol.
"The difference is that, unfortunately, we can no longer access the school, but I tell myself that it's a very positive thing because it means that no unknown adult can get in," said parent Faiza Tebaoui.
Other new measures include special evacuation training for school staff.
At another school, southwest of Paris, some parents say heightened security is not immediately visible.
"If there's additional security, it's rather discreet, I guess, in order not to unduly stress our children," said one mother.
"I think there are security measures, they're just not very visible"
Emergency rule has been in place across France since Islamist attacks on Paris last November.
It is hoped the new school measures will help deter any armed attackers.