Italy plans rebuild of quake-hit towns
Comments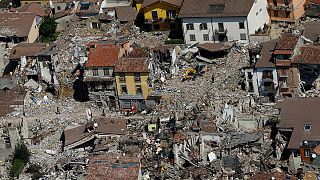 Drone footage of Amatrice shows how easily the buildings crumbled when an earthquake rocked central Italy on August 24th killing 294 people. Where houses once stood, now piles of bricks and remnants of walls remain.
The government has announced a recovery plan to be led by Vasco Errani, former president of the Emilia-Romagna region in 2012, when two quakes hit homes and businesses.
With recovery underway, many questions are being asked as to why the tragedy happened at all.
Italian geologist Gabriele Ponzoni told euronews, "There was a structural problem linked to the buildings, we're speaking about very very old buildings, the other reason is that it is a very vulnerable area, very exposed to risk. There needs to be a more detailed knowledge of the subsoil, then more detailed geological mapping, further analysis of the subsurface with seismic micro-zoning".
Italy sits on two faultlines, which means anti-seismic building standards should be the norm. Previous reconstruction efforts after recent earthquakes became victim to political calendars or corruption.
"We have forgotten what happened in the past, of what can happen again and of the risk in some areas," explained Ponzoni. "Then there is a political problem: the politicians only look as far ahead as the next elections and so an expensive and long plan that does not give immediate results, it is not well seen."
Two inquiries are underway to find out whether there was criminal responsibility for failing safety standards in quake-prone areas.
Meanwhile, those who survived the earthquake now face living in tents until January, as the long process of rebuilding begins.