Channeling frustration through judo in war-torn Yemen
Comments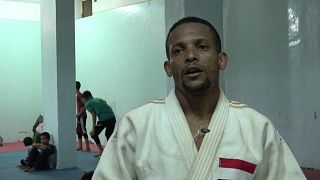 Yemen's war between Houthi rebels and political allies of ex-president Ali Abdullah Saleh continues to rage on.
On Monday, a suicide car bomb killed at least 71 people in the southern city of Aden.
Some 200 kilometres northwest lies what used to be considered the cultural capital of Yemen – Taiz.
A war-torn city almost unrecognizable nowadays.
Standing amongst the bomb-hit buildings and rubble is a makeshift dojo where 2003 national champion Hesham Al-Hulaibi and other of the city's residents channel their frustration by continuing to practice the sport they love – Judo.
Al-Hulaibi who also trains the youngsters explained: "Sport is what makes me believe in my future, if I were to try to work, there's no jobs. Sport is a way we can express our frustration, all of us."
Frontlines surround the city and indiscriminate shelling has brought residents to the brink of starvation.
Memories of a happier life are on show at the Judoka's house, where he lives with his wife and two children.
Judo medals and trophies are testament to Al Hulaibi's former glories, while photo albums are also on hand to help remember better times.
But remembering an increasingly distant past is quickly replaced by the reality of life in Yemen today.
Thousands of lives have been lost in the war and understandably Al-Hulaibi has had to put his daily survival above his sports career.
Al-Hulaibi said: "One doesn't know how to organise his time these days, you're trying to make your daily bread how can you manage to practice sports?"
Despite being surrounded by death and destruction, Al-Hulaibi still finds the time and motivation to train on his building's rooftop, where he keeps in shape courtesy of home made gym equipment.
And whilst pleas for international aid organisations to deliver critical supplies grow louder, Al Hulaibi and many others' fight for survival goes on.