Trump vows to deport criminal illegal immigrants
Comments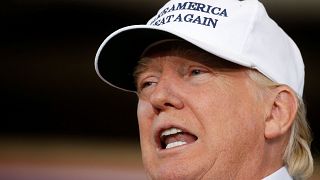 Republican Presidential candidate Donald Trump set out more details on his immigration policy as he sought to play down criticism he had softened his hardline stance on deporting undocumented migrants from the US.
At a fund raiser for Senator Joni Ernst in Iowa, Trump told the crowds to rounds of applause:
"On Day One, I am going to begin swiftly removing criminal illegal immigrants from this country – including removing the hundreds of thousands of criminal illegal immigrants that have been released into U.S. communities under the incompetent Obama-Clinton Administration."
He also said he would "institute nationwide E-Verify, stop illegal immigrants from accessing welfare and entitlements, and develop an exit-entry tracking system to ensure those who overstay their visas are quickly removed".
Previously, Trump won over conservative voters with his hardline approach saying he would build a border wall. In Iowa he avoided clarifying whether he would deport 11 million undocumented migrants living in the country.