Kazakhstan crowned miniEURO champions
Comments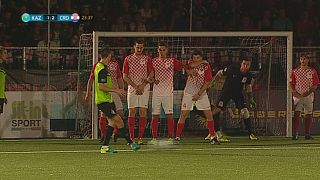 The 7th edition of the Minifootball European Championship came to a close this weekend with Kazakhstan taking on Croatia in the final.
This final made sure that Romania's 100 percent title-winning exploits in the competition came to an end after having been crowned European champions every year since its inception in 2010.
This year's six-a-side tournament took place in the historical Hungarian town of Székesfehérvár.
32 participating nations were eventually whittled down to two battling it out for top honours.
Kazakhstan twice came from behind to take the final into a penalty shootout after regulation ended 2-2.
Croatia who were contesting their third final and second straight were once again denied as Kazakhstan were crowned European champions for a first time winning 6-5 on penalties.
The next mini-football European Championship will be held in Prague, while also next year the world championship of this pint-sized footy game will be hosted in Tunisia.