Protesters clash with police at Moldova independence day parade
Comments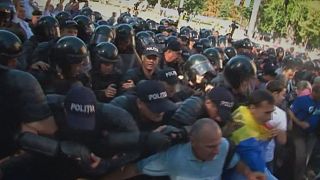 Tensions boiled over during Moldova's independence day parade, as protesters clashed with police in the capital.
Officers used tear gas to disperse anti-government demonstrators who had gathered in Chisinau *KISHENOW, calling for political change.
One protester explained:
"We decided to celebrate this day in this manner, because we do not at all feel free. People are poor, people leave the country…Those who have recently stolen a billion dollars from us, organise military parades, waste millions from the budget on it, which essentially means from our money in the time of crisis."
Twenty-five years after declaring independence from the Soviet Union, the country is plagued by corruption, poverty and emigration.
The disappearance of nearly 1 billion euros from Moldovans banks has rocked people's faith in politics and the country has seen five different prime ministers in the last year alone.
#BREAKING: Reports of #police using teargas to disperse anti-government #protest in #Chisinau, #Moldovapic.twitter.com/7plMbMq3bT

— Alex Kokcharov (@AlexKokcharov) August 27, 2016
Anti-government protests have been gathering pace in the last year and many promised further protests in September.