French burkini ban ruling fuels controversy
Comments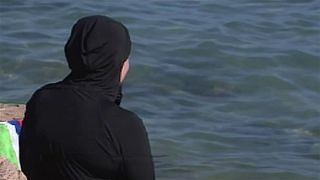 France's top court has drawn a line in the sand over the burkini ban, but the issue is continuing to make waves in political circles.
The court said it seriously infringed fundamental freedoms, as it suspended the ban in the Villeneuve-Loubet Cote d'Azur town. They said the swimwear did not pose any threat to public order.
The ruling is expected to set a precedent for 30 other towns and communes which have prohibited the swimwear. The mayor of Villeneuve-Loubet said he would fight the ruling. Other mayors are also looking to defy the high court's decision.
The ban had been imposed on the grounds that it contravened French laws on secularism. Far from cooling down tensions, the ruling has created even more controversy.
Political football
Prime Minister Manuel Valls said that denouncing the burkini was not 'calling into question individual freedom' adding that the outfit was a symbol of 'backwards, deadly Islamism'. It came in a statement posted on facebook in which he said the debate was not closed.
The issue has created a rift in government.
Nicolas Sarkozy has taken the issue one step further as he kicks off his campaign for the presidency in 2017, saying he would impose a nationwide burkini ban. A suggestion which would court the far-right vote.
Also, in the race for the presidency, far-right Front National leader Marine Le Pen called for a vote to extend the prohibition of wearing religious symbols from classrooms to cover all public spaces.
The burkini ban has sparked debate on secularism, women's rights and religious freedom. Some human rights groups claim the ban amounts to 'collective punishment' for Muslims in the wake of deadly terror attacks in Paris and Nice.
"These bans do nothing to increase public safety, but do a lot to promote public humiliation. Not only are they in themselves discriminatory, but as we have seen, the enforcement of these bans leads to abuses and the degrading treatment of Muslim women and girls," Amnesty International said in a statement.
Some NGOs say they would bring cases to court to fight mayors who continue the prohibition of burkinis. The Council of State will have the final say on the matter.