US second quarter growth sluggish, as consumer spending surges
Comments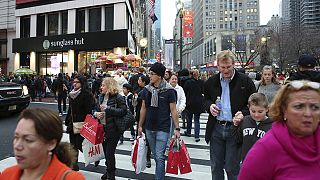 New data show economic growth in the US was slightly more tepid than initially thought in the second quarter – offsetting a spurt in consumer spending.
The Commerce Department says GDP expanded at a 1.1 percent annual rate, in its second estimate.
Economists do not think that is too worrying, pointing to more recent data that indicates a strong rebound in the third quarter.
The goods trade deficit narrowed sharply and residential construction rose in July – while demand for manufactured capital goods also surged.
The Atlanta Federal Reserve is currently forecasting third-quarter GDP rising at a 3.4 percent rate.
The US economy expanded at a 0.8 percent pace in the first quarter. It grew 1.0 percent in the first half of 2016.