Burkini ban suspended by top French court
Comments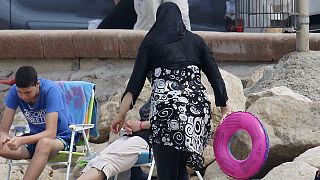 France's highest administrative court has suspended the ban on women wearing burkini swimsuits that had been in force in the southern seaside town of Villeneuve Loubet.
The ruling by the State Council in Paris is a temporary one which only applies to the town. A permanent ruling on whether or not to ban the burkini from public view in France is expected to be made in a few months.
The Human Rights League had challenged it on the grounds that it was an infringement of religious freedom. "There is the principle which is the freedom of religion. There will be a violation to this freedom if the town decides to forbid someone to express his religion on the public space," Patrick Spinosi said.
The court said the ban "seriously, and clearly illegally, breached the fundamental freedoms to come and go, the freedom of beliefs and individual freedom."
The wearing of burkinis has touched a raw nerve in France which is trying coming to terms with deadly Islamic extremist acts of violence such as the Bastille Day truck attack which killed 86 people in Nice.
Prime Minister Manuel Valls has defended the ban but some ministers have criticized it, splitting the government.
France's Moroccan-born education minister, said the burkini debate was fanning racist rhetoric and being used for political gains.
Vallaud-Belkacem said she opposed burkinis but dismissed the political argument that the ban was a useful tool in France's fight against militants.
"There is no link between the terror attacks of Daesh and the dress of a woman on the beach," Vallaud-Belkacem told Europe 1 radio, using the Arabic acronym for Islamic State.
Nicolas Sarkozy, who is running again in the election in 2017, has said he'll never allow burkinis to be worn if he becomes president.