Colombia's peace deal heads to Congress
Comments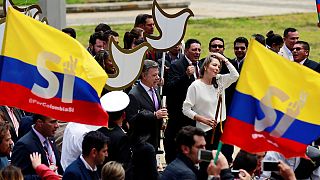 It was an historic moment: the formal peace agreement made in Havana to end 52 years of civil war in Colombia.
Now Colombia's Congress has 30 days to examine the text of the agreement. There are many sensitive areas to be debated. Who on both sides will be pardoned and who tried for war crimes?
But for now Colombians appear happy with their president's declaration of peace. "I have ordered a definitive cease fire with the FARC, beginning at zero hours of the upcoming Monday, August 29th. With this ends the armed conflict with the FARC," president Juan Manuel Santos informed the nation on Wednesday.
In July both the FARC and the government finally signed up to a ceasefire after trying without success three times before in 1984, 1991 and 1999.
Under the peace deal, fighters on both sides who admit to war crimes such as sexual violence and forced disappearances, will have their "freedom restricted" from between five and eight years.
Around 7,000 FARC fighters are to be disarmed and helped back into civilian life with a monthly stipend of 200 dollars.
Deep distrust of the FARC remains after thousands of civilians were killed and hundreds kidnapped for ransom money. The group has also funded itself through the illegal drug trade by making large quantities of cocaine in makeshift laboratories in the jungle, also raising the ire of many Colombians.
But the peace negotiators insist that the peace deal will be a lot cheaper, and will clearly save more lives, than if the fighting were to continue.
Hundreds of people were held hostage by the FARC in the jungle for years and suffered greatly. They included Ingrid Betancourt, a presidential candidate and five Americans working for the government.
In 2003 the FARC blew up a nightclub favoured by the elite in Bogota. Thirty seven people died and 200 were injured.
After it passes through Congress, Colombians will get the chance to
vote on whether they accept the terms of the peace deal in a referendum in October 2nd.
To better understand the mood in Colombia, we talked to Adriana Benjumea, of the Bogota-based NGO and think-tank Humanas, which promotes human rights and, in particular, women's rights.
Vincenç Batalla, euronews:
"Colombia's President Juan Manuel Santos has declared the end of the war with the FARC
after four years of negotiations and half a century of conflict, the longest Latin America's ever known. Is the war really over?"
Adriana Benjumea, Humanas:
"Of course, we think it is correct to say that the conflict is over. Colombia can live like a country aiming for peace and we, the citizens, have a right to live in this peaceful country. What the president Juan Manuel Santos said is true: we can say that the war in Colombia is at an end."
Vincenç Batalla, euronews:
"There are six points in the deal which must be approved by a referendum of the Colombian people on October 2. Will they say yes?"
Adriana Benjumea, Humanas:
"It is crucial for the men and women of this country to say 'yes' to peace. We are convinced – everyone who defends human rights, all citizens – that we are going to say 'yes' to peace. We are not going to let this possibility for peace in our country fall through and squander the compromise reached by the FARC and the Colombian government."
#NEWSGRAPHIC Details of historic peace deal reached by Colombian government and FARC rebels pic.twitter.com/e1DZm2tWvc

— AFP news agency (@AFP) 25 août 2016
Vincenç Batalla, euronews:
"Former President Alvaro Uribe is against this deal. To what extent could he obstruct the process?"
Adriana Benjumea, Humanas:
"In fact, the war only suits a minority of people, no doubt on the right. But we are convinced that the stance of ex-President Uribe has no place in a country dreaming of waking up one day with guns silenced and with a democracy being established without violence."
Colombia opposition, headed by Uribe, to vote 'no' in peace plebiscite https://t.co/4ohoBGslo0pic.twitter.com/vEZwykKQor

— Reuters World (@ReutersWorld) 4 août 2016
Vincenç Batalla, euronews:
"The rebels are expected to surrender their arms within the next six months. Are there guarantees that this will be respected?"
Adriana Benjumea, Humanas:
"Yes, there are guarantees. A verification committee has been set up with the member states of CELAC – the Community of Latin American and Caribbean States, the FARC, the Colombian government and representatives of the United Nations. Those who lay down their arms have the guarantee that when they do so their lives will not be in danger. People living in the affected areas will also check that the agreement is respected."
Vincenç Batalla, euronews:
"A series of measures provides for these rebels' integration into Colombian political life. Is this
realistic?"
Adriana Benjumea, Humanas:
"Guarantees are needed as far as their political activities are concerned. They must be included in the social and political debate so that reforms can be achieved to build a better country."
Vincenç Batalla, euronews:
"Finally, there is still the ELN or National Liberation Army. Can a solution also be found with this rebel group?"
Adriana Benjumea, Humanas:
"Right now, a lot of political and social players are demanding that negotiations start with the ELN. All the necessary conditions are in place. The ELN wants to start talking, so does the government. They need to sit round a table so as not to waste this political opportunity and make the most of the peace deal signed between the Colombian government and the FARC. Only then will we be able to say that there is full peace in Colombia."