Burkini ban in parts of France provokes beach-themed protest in London
Comments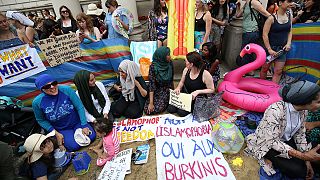 A beach-party-themed sit-in has taken place in front of the French Embassy in London to protest against the burkini ban in some parts of France.
At least 15 coastal areas in the country have forbidden clothing described as "overtly manifesting adherence to a religion when France and places of worship are the target of terrorist attacks."
Already a contentious issue, further anger appears to have been sparked by an image in a right-leaning British tabloid, appearing to show armed officers standing over women on a French beach.
Reports have emerged of women being told to remove elements of the burkini, or being fined for wearing them.
"I'm here today because I think it is outrageous that Muslim women was [sic] forced to strip in public on a beach by armed police. I think it was an outrageous attack on all women's rights to choose what we put on our bodies," said one teacher who attended the demonstration.
"We wanted to show solidarity with Muslim women in France and call for a repeal of the ban," added India Thorogood, a co-organiser of the protest.
France's highest administrative court is to vote on the ban on Friday (August 26).