Biden reassures Erdogan but Turkey-US tensions persist over Gulen
Comments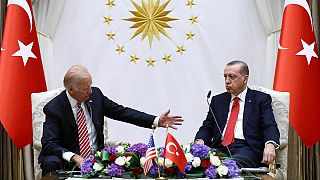 President Erdogan has received an apology from US vice president for not visiting Turkey earlier after the failed coup attempt.
They are all terrorists and all are bad

President of Turkey
Joe Biden offered Ankara Washington's "absolute and unwavering" support.
But he said only the courts not the US government could decide on Turkey's extradition demand for the exiled cleric Fethullah Gulen.
"Our American experts are on the ground, here in Ankara, meeting with your people, closely coordinating with our Turkish counterparts, to evaluate and gather material with regard to Turkish request to extradite Gulen," Joe Biden told a joint news conference with the Turkish president.
Erdogan called for the Muslim cleric Turkey believes orchestrated the coup attempt to be held in custody.
Biden wasted a trip, Turkey wasted time | DS Editorialhttps://t.co/iZpfcdmrW1pic.twitter.com/19O3jmoVMI

—

DAILY

SABAH

(@DailySabah) August 24, 2016
Speaking on the day Turkey went into Syria to battle ISIL, the Turkish president also took a swipe at all the country's enemies – including Kurdish groups.
Turkey has suffered bombing atrocities from both movements.
"Whether it's Daesh or PKK or PYD or YPG or the DHKPC or Nusra or Al Shabab, in our view these are all terrorist organisations… There are no good or bad terror organisations. We can not make a distinction between good or bad terrorist organisations. They are all terrorist and all are bad," Recep Tayyip Erdogan said.
The Turkish government has been accused of using the coup to curtail dissent.
Tens of thousands in the police, civil service and elsewhere have been detained, sacked or suspended.
On Wednesday Turkish broadcaster CNN Turk reported that another 2,800 judges and prosecutors had been fired.
Joe Biden's Turkey tightrope: Can he reassure Ankara that the U.S. is committed? https://t.co/m3iKZioQEu | Getty pic.twitter.com/SPzlRSsqIP

—

POLITICO

(@politico) August 24, 2016