Can comeback kid Sarkozy really win in 2017?
Comments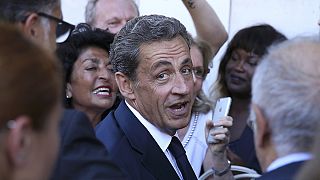 It came as no great surprise to the French when their hyperactive former leader Nicolas Sarkozy announced he was going to run for the presidency again.
The declaration came in a book he has just written titled "All for France."
"I decided to be a candidate in the presidential election of 2017… I felt I had the strength to fight this battle at such a tormented time in history," he wrote.
After a surge in unemployment Sarkozy's first term in office came to an end in 2012 and he became the eleventh EU leader to be felled by the Eurozone crisis.
On May 6 Sarkozy was defeated by Francois Hollande. And as his supporters mourned his defeat few imagined he could ever return to office.
After all Sarkozy himself had ruled it out. In a radio interview he was asked what he'd do if he lost:
"If you lose this presidential election will you quit politics? Yes. You'll quit politics? Yes. If you lose on May 6, May 7 you'll give up politics? You can ask me the question a third time, and I'll say to you "yes".
A few days later Sarkozy left the Elysee Palace for supposedly the last time as a divisive political figure who had perhaps unwisely courted celebrity status by marrying the glamorous model Carla Bruni.
Sarkozy's rise to power has been marked by a series of setbacks which are followed by comebacks in which he emerges stronger than ever.
In 1995 he backed Edouard Balladur for the presidency which caused a long running rift with the successful candidate Jacques Chirac.
Then in 1999 when he was leader of the Rally for the Republic party it gain a mere 12 percent of the vote in European parliamentary elections.
As France's state of emergency continues Sarkozy will face stiff compeition from the National Front's Marine Le Pen.
A few days after the Nice truck attack in July his rhetoric appeared to equal the ferocity of Le Pen's, a sign of a hardening of position towards Islamic extremism.
"We need to understand that we are at war. Our enemies have no taboos, no boundaries, no principles . So I 'm going to use strong words. It will be us or them. And it is a question of determination," he said in a TV interview.
Sarkozy has been particularly scathing of President Hollande's security record, urging France to get tough on immigration and stop the erosion of the Republic's secular identity
And that may just be his winning formula.