Biden reaffirms US commitment to NATO's Article 5 in Baltics
Comments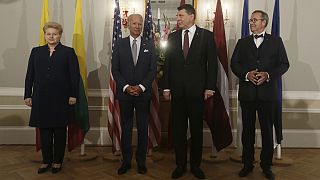 US Vice President Joe Biden has underlined the United States' commitment to NATO's mutual defence guarantee, Article 5.
Members of the alliance have agreed to come to the defence if one or more of them is attacked.
Donald Trump had questioned NATO's pledge to defend the Baltic states which border Russia.
"We are absolutely, thoroughly, 100 percent committed to our NATO obligations including and especially Article 5," Biden told reporters in the Latvian capital, Riga, after a private meeting with three Baltic heads of state.
Biden's visit aims to underline NATO's commitment to the region amid heightened tensions with Russia and Republican presidential nominee Donald Trump's questioning of the alliance's pledge to defend the Baltic states.
"[T]he fact that you occasionally hear something from a presidential candidate in the other party, it's nothing [that] should be taken seriously, because I don't even think he understands what Article 5 is," Biden said.
Lithusnia, Latvia and Estonia see themselves on the frontline of any potential conflict with Russia.
NATO agreed last month to deploy forces to the Baltic states and eastern Poland to reassure allies worried about a threat from Moscow.
Russia often depicts NATO as an aggressor whose members are moving into former Soviet territory, which it considers within its sphere of influence.