Pentagon scrambles jets to protect US forces from Syrian bombing
Comments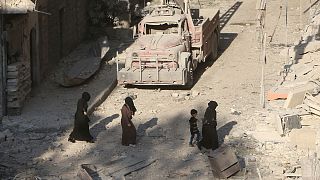 The Pentagon says US-led coalition aircraft have been scrambled in Syria to protect American special ground forces from attack by government jets.
The intervention described as "very unusual" came on Thursday near the northeastern city of Hasaka.
The US Defense Department said in a statement that coalition forces had been put at risk. It said that the aircraft reached the area as two Syrian jets were leaving, and the US special operation forces were in the area where the strikes were taking place.
Spokesman Captain Jeff Davis said the Syrian planes did not respond to efforts by ground forces to contact them.
The deployment of US troops have been authorised by President Obama to back local militias fighting the self-styled Islamic State (ISIL) in Syria, but he has always ruled out sending ground forces to the conflict.
A second day of Syrian bombardment on Friday caused thousands of civilians to flee Kurdish areas of Hasaka, which is mainly under the control of the YPG.
Until now the government and Kurdish militia group have mostly avoided confrontation. The US says it is the first time it has seen Damascus take such action.
W~ #Syria army saying it's fighting #PKK forces in #Hasakah, it's sending message of goodwill 2 Turkey&testing #US-#Kurd relations in #Syria

— Mohammed A. Salih (@MohammedASalih) 19 August 2016
A video obtained by Reuters shows the aftermath of the air strikes, with debris covering the ground, heavily damaged building and black smoke rising from a fire in the middle of a road.
Surveying the damage, a Hasak resident said:
"Look at the state of the shops! There is an electricity store, there is a cheese shop.. it is a civilian area! We were surprised. In the military areas they hit Asayish (a security force linked to the YPG) but in the civilian areas… We were surprised."
Damascus has accused Asayish of provoking violence and says the army responded appropriately. The YPG claims dozens of civilians were killed.
#US sends jets to protect forces from regime strikes in #Syriahttps://t.co/WgPCr0pdUI

— Al Arabiya English (@AlArabiya_Eng) August 19, 2016
Meanwhile Moscow has released videos showing Russian warships in the Mediterranean firing missiles it says targeted the Islamist Jabhat group in Syria, formerly known as al-Nusra.
A statement by the Russian Defence Ministry said a command centre, terrorist base and ammunition plants were destroyed.
#Russia Asserts Its Military Might in #Syria, via nytimes</a> <a href="https://t.co/h1OXpuQo2U">https://t.co/h1OXpuQo2U</a></p>&mdash; Colin P. Clarke (ColinPClarke) 20 August 2016
Three reasons behind #AlNusra Front's attempt to rebrand https://t.co/siZdKUyOdF#Syriapic.twitter.com/q9ncU9qtOf

— Sputnik (@SputnikInt) 19 August 2016
#SYRIA Report of the Russian Centre for reconciliation of opposing sides (August 19) https://t.co/NpPHafZYjmpic.twitter.com/k3kb5g1eBv

— Минобороны России (@mod_russia) August 19, 2016