Zika cases in Miami Beach bring new warning for pregnant women
Comments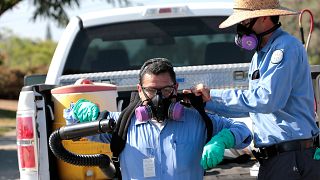 Confirmation that the Zika virus has infected several people in Miami Beach has led US authorities to warn pregnant women not to travel to the Florida resort's affected areas.
Already battling the virus in another part of the city, officials believe cases have been transmitted in the South Beach district popular with tourists.
Zika – often spread by mosquitoes – can cause severe birth defects. Pregnant women concerned about exposure to the virus are being told they may want to avoid the whole of Miami-Dade County.
Pregnant women & sexual partners concerned about #Zika may consider postponing nonessential travel to all parts of Miami-Dade County.

— Dr. Tom Frieden (@DrFriedenCDC) August 19, 2016
The new warnings come from the US Centers for Disease Control and Prevention, and represent a challenge to Florida's tourism.
The state has been accused of playing down the scare to avoid damaging the industry. Florida's Governor Rick Scott said every measure was being taken to ensure the information provided to the public was accurate.
He confirmed that state health officials had identified five new cases believed to have been contracted in Miami Beach. Of the five, one was from New York, one from Texas and one from Taiwan, and all three had travelled to Miami, the governor said.
"Following today's news, I'm asking the Center for Disease Control for the following: an additional 5,000 Zika antibody test kits, this will ensure we can quickly test people for the virus. Additional lab support personnel will help us expedite Zika testing and an additional 10,000 Zika prevention kits. These are essential for pregnant women," Scott told a news conference.
Federal health officials say spraying operations have reduced but not wiped out mosquito populations in the first affected area, the Wynwood arts neighbourhood of Miami.
They add that spraying pesticides in Miami Beach will be challenging because of the number of high-rise buildings. Aerial operations will be impossible, meaning that ground-based techniques like backpack spraying will be used.
Clusters of #Zika cases like these in FL are expected; are not an indicator Zika is spreading throughout Miami-Dade County.

— Dr. Tom Frieden (@DrFriedenCDC) August 19, 2016
Additional area of active #Zika transmission identified in Miami Beach. https://t.co/ZHowjXw9Zr

—

CDC

(@CDCgov) August 19, 2016