Twenty five years ago the USSR collapsed
Comments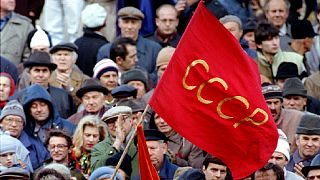 It's 1991 and President Mikhail Gorbachev has brought in Perestroika, a set of reforms to the Soviet system but he's still trying to keep Communism alive.
Thousands of protesters march against him – they want to see an end to communism forever.
A year after the fall of the Berlin Wall and the Soviet economy is in a deplorable state. In March the Baltic Republic of Lithuania declared independence, the first Soviet republic to do so.
Boris Yeltsin is elected president of the Russian Federation and he immediately calls for Russia's independence, implying that all other Republics can choose independence too.
Then on August 19 communist hardliners attempt to seize back power. Three hundred and sixty tanks and armoured vehicles and four thousand soldiers occupy central Moscow.
Gorbachev, who is on holiday in Crimea, is confronted by the hardliners. Will he restore the system they demand? No is the answer. So they declare him sick to the outside world and declare a state of emergency.
When Yeltsin learns of the attempt to seize power he goes to parliament to organise a resistance.
Then hours later, he climbs on top of one of the hardliners' tanks in front of the presidential White House and denounces the coup plotters in front of the crowd and the media gathered around him.
In the face of public resistance and the reluctance of the military to carry it through the coup attempt fails.
Meanwhile an exhausted Gorbachev flies back to Moscow. Whilst he is able to hang on to power for a few more months, it becomes clear that communism as a political system has also been exhausted.
Yeltsin ensures Gorbachev is restored to power but now he is pulling the strings and he orders the Soviet Communist Party to be disbanded in Russia.
On 25 December, Mikhail Gorbachev goes on television to announce he is stepping down as Soviet president.
And in the months to come all 16 Republics of the former USSR gain independence.
On 26 December 1991 the Soviet parliament, already deserted, meets for the last time and the Soviet Union is officially ruled out of existence.
When the end came it took only months for the USSR to unravel but still it took the world, which had been indoctrinated by the binary logic of the Cold War, by surprise.
And twenty five years on many of the former Soviet Republics remain wary of Russia.
They have seen Russian troops invade Ukraine in 2014 and annexed the Crimean Peninsular and they've also seen troops briefly invade Georgia in 2008.
Just as France and Britain, the two biggest former colonial powers in Africa, exerted a degree of control after they had left so, Russia today continues to exert a greater or lesser influence, whether economic, political or military on almost all these young states.