Saudi Arabia: abandoned migrant workers refuse free flights home
Comments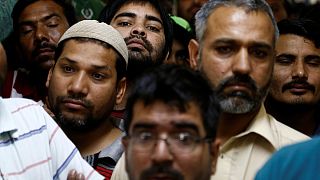 Thousands of migrant construction workers – abandoned by their employers in filthy desert camps in Saudi Arabia amid the kingdom's economic slump – say they will not accept a government offer of free flights home until they get months of unpaid wages.
At one camp, workers say they stopped working for the firm Saudi Oger around four months ago and have not been paid since January.
"We have 10 million foreign workers not complaining and we have only 30,000 in one company, this should not be generalised," said Mufarej Al-Haqbani, Saudi Labour Minister.
Saudi Oger – the family company of former Lebanese Prime Minister Saad Hariri – is said to have stopped providing basic services at several of its camps.
It did not respond to Reuters requests for comments.
"From January, no salary, my family (has a) big problem. My son (has) no fees for school. No pay for (the) electricity bill. No eating food for family," said Mohammed Mossad, an Indian worker for Saudi Oger.
Mohammed Riyas, a Pakistani worker, added: "I'm sitting in my room, I am wasting my time. I want to go Pakistan. But I'm sitting here, they're not giving me (my) salary, they're not giving me anything."
Another Pakistani worker, Sardar Naseer, commented: "Medical problems. Many people are sick but they cannot go hospital because they don't have insurance. Therefore, they cannot treatment here."
India, Pakistan and the Philippines are among countries pressuring the Riyadh authorities to help the abandoned workers.
The Labour Ministry says it will follow up wage claims through Saudi Arabia's labour dispute system.