Dreaming of peace: civilians suffer as fighting escalates in Eastern Ukraine
Comments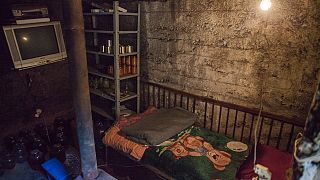 Last week's escalation of political tension between Moscow and Kyiv has brought the conflict in Eastern Ukraine back to the top of the news agenda. The Kremlin has accused Ukraine of planning a sabotage mission in Crimea, which was annexed by Russia in 2014. Ukraine strongly denies involvement in any such plot.
While there is much speculation around the recent spike in political tension, the situation has been worsening for some time. Reports from international monitors, humanitarian organisations and volunteers on the ground reveal that the conflict in Eastern Ukraine has been escalating, not for a couple of weeks – but for more than two months.
The United Nations reports that 20 civilians were killed and 122 injured in the Donetsk and Luhansk oblasts (regions) in June and July. These are the highest casualty figures since August 2015.
Despite the declared truce, communities in the so called 'grey zone' and the surrounding areas still endure regular shelling. Heavy weapons, forbidden by the Minsk Protocol, continue to be used.
Euronews reporter Natalia Liubchenkova has visited the town of Maryinka in Donetsk oblast, spending time talking to local residents about what life is like for them amid the long-standing tension.
Before the conflict broke out in 2014, the population of Maryinka was around 10,000. Since then the town has been ravaged by violence. Many residents have fled during periods of heavy fighting. Although some of the these have returned, local residents estimate that the town's population today is around 6,000.
Thirty-nine civilians have been killed in Maryinka since the start of war.
The frontline is just few hundred metres away from residential areas in Maryinka. Therefore local residents have had to get used to regularly taking shelter in underground cellars – either at their own houses or in public places that have been designated for the purpose.
Six-year-old Nastya and her mother Inna showed our reporter a cellar in the yard outside their house. It is meant for food storage – but since war broke out, the family have been using it to shelter from shelling
Most of the fighting happens at night, when monitoring missions are not on the ground – although residents tell our reporter that fighting also sometimes takes place during the day.
As a result, Nastya and her family regularly spend hours or whole nights here.
For the six-year-old, the trauma of living in fear – hearing explosions, running for cover, hiding out – has already impacted her health. The little girl's hair started falling out. With the help of treatment at a local hospital, it has started to grow back. Her mental scars will not heal so quickly.
Elsewhere in Maryinka a house was hit by a rocket on 10 August, injuring two children. Local humanitarian volunteer Sergiy Kosyak shared these photographs on his Facebook page to call for help.
With days characterised by hardship, tension and instability, local residents hold on to hope by dreaming of a different future – where peace finally returns.
Photographer: Natalia Liubchenkova