Michael Phelps: the making of a golden athlete
Comments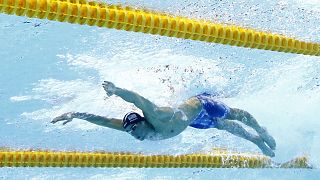 Michael Phelps latest gold medal wins polish his reputation as the most successful male swimmer in Olympic history.
I enjoy being in the pool and I enjoy being in the sport of swimming

Winner of 22 Olympic gold medals
The 31-year-old has been swimming since he was seven years old.
A sport chosen partly because his two older sisters were keen swimmers, but also to give him an outlet for his high levels of energy, after he was diagnosed with attention deficit hyperactivity disorder.
He joined up with Bob Bowman, the man who is still his coach, at age 11 at his local aquatic club in Baltimore, Maryland and qualified for the 2000 Olympic Games in Sydney, Australia when just 15, becoming the youngest male swimmer in a US Olympic team in 68 years.
The best he managed at the Sydney Games was a fifth place but since then he has not stopped winning – a total of 26 Olympic medals, 22 of which are gold.
In Rio he broke a record for the number of Olympic titles held that had stood for more than 2,000 years.
Crazy Stat of Day: Michael Phelps just broke a record that stood for nearly 2,200 years. pic.twitter.com/LusJkj3Cio

— SportsCenter (@SportsCenter) August 12, 2016
#Olympics Phelps 13 Leonidas 12. Hard luck Leonidas but the 2168 year old record has gone https://t.co/5wE361aPjT

— Hilary Evans (@OlympicStatman) August 12, 2016
Along with a slew of world records, Phelp's total is 80 medals in major international competition – 65 gold, 13 silver, and 3 bronze spanning the Olympics, the World Championships, and the Pan Pacific Championships.
If you were looking to design the most efficient body for swimming you couldn't do better than Phelps.
He is 1.93 metres tall (6 feet 4 inches), his arms stretch 2.03 metres (almost 6 feet 8 inches) and he has huge feet – size 47 in continental measurements – as well as lungs that are nearly twice the average size.
Short legs and a long torso mean decreased resistance in the water.
Why Michael Phelps is still great at an age when most swimmers have faded https://t.co/5OHQmiF60apic.twitter.com/9lrGjZYHR9

— Guardian sport (@guardian_sport) August 12, 2016
Phelps personal life has not always gone as smoothly as his swimming career.
He has twice been arrested for driving while drunk – in 2004 and 2014.
And in 2009 he was suspended for three months from competitive swimming and lost a major sponsor after the publication of a photo of him smoking drugs in a bong.
The second drink driving conviction led to his being suspended from all competitions for six months.
He's one cool dude. https://t.co/pwx8urKDnE

— Rowdy Gaines (@RowdyGaines) July 31, 2016
After the 2012 Olympics the swimmer announced his retirement but in April 2014 made a comeback, explaining: "I'm doing this for me. If I don't become as successful as you all think I would be or I should be and you think it tarnishes my career then that's your own opinion. I'm doing this because I want to come back and I enjoy being in the pool and I enjoy being in the sport of swimming. So I'm having fun with what I'm doing".
For Rio – his fifth and probably last – Olympics, Phelps was the United States flag bearer at the Opening Ceremony.
Watching his record breaking performances from poolside was his fiancée Nicole Johnson, with whom he recently had a baby, named Boomer.
Loving MichaelPhelps</a> shoes w son Boomer&#39;s foot imprint on one of them...so dang cute. <a href="https://t.co/xjCxg2SV2h">pic.twitter.com/xjCxg2SV2h</a></p>&mdash; Rowdy Gaines (RowdyGaines) July 31, 2016