Assaults and air strikes in northern Syria
Comments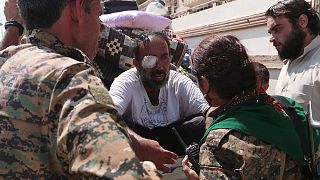 Manbij
US-backed forces battling ISIL near the Turkish border in northern Syria say they have launched a final assault to flush the remaining jihadists out of the city of Manbij.
The Syrian Democratic Forces (SDF), with air support from a US-led coalition, said last week they had taken almost complete control of the city.
Around 100 ISIL fighters remain in the centre of the city.
Eyewitnesses say they are using civilians as human shields.
Friday's attack is "the last operation and the last assault", according to Sharfan Darwish, a spokesperson for the Syrian Arab and Kurdish forces.
The campaign aims to flush ISIL out of the areas it controls along the Turkish border.
For years, this was a route via which the group moved fighters and weapons.
Idlib
Several air strikes have hit the city of Idlib in the northwest of Syria.
Syrian civil defence forces say at least two people have been killed and dozens injured.
"Assad planes targeted Idlib with five airstrikes, all hitting civilian homes, there are no military bases or military factions in the area. This led to ten injuries, according to initial estimates by the civil defence, ten people were transported by ambulance," said Abu Saleh from the civil defence force.
Aleppo
At least 18 people are said to have been killed in air strikes on opposition areas in northern Aleppo province.
The strikes come in the face of calls for a temporary humanitarian ceasefire.
Eyewitnesses say the missiles also hit a hospital here the town of Kafr Hamra
It is near the frontline in the deeply-divided city of Aleppo.
An estimated 300,000 people have been trapped by the fighting.