Venezuela opposition signature drive 'probably' set for October
Comments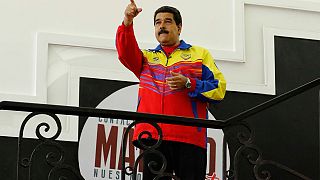 Venezuela's National Election Council (CNE) says the country's opposition will "probably" be able to continue its progress towards a mid-term recall referendum in late October.
To advance the process of holding a vote to recall the mandate of President Nicloas Maduro and oust him from power, signatures need to be collected from 20 percent of the electorate — about four million people — during a three-day window.
Timing is important because if Maduro loses a referendum this year there would be a presidential election that the opposition would likely win. If he loses a vote after January he would be replaced by his vice-president until the next presidential election, due at the end of 2018.
The opposition is determined that the referendum happens as quickly as possible.
"There will be a recall referendum here and there will be a recall referendum this year, in 2016," said opposition coalition secretary Jesus Torrealba, "because it is technically possible, because it is politically pertinent and because it is socially indispensable."
Venezuela just announced its roadmap to the recall referendum against President Nicolás Maduro. pic.twitter.com/h6EB3HZeV2

— teleSUR English (@telesurenglish) August 10, 2016
---
The first stage in the 12-step process towards a referendum required support from one percent of the electorate.
Government supporters have accuse the opposition of falsifying some of the signatures collected in the initial phase.
But the president of the CNE said that 98 percent of nearly 408,000 signatures gathered by the opposition Democratic Unity (MUD) coalition — twice the minimum requirement of one percent, or 200,000 — were validated.
She has requested a probe into the others.
Opposition protesters blame Maduro for a long recession, triple-digit inflation, and shortages of basic items in the shops.
President Maduro, who blames falling oil prices and his opponents for the country's crisis, has vowed there will be no referendum this year.