Rio Olympics: Kelmendi places Kosovo on sport map with historic gold
Comments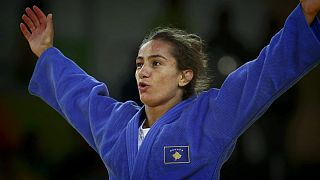 Majlinda Kelmendi has steadily taken the world of judo by storm ever since she burst onto the scene to win the World Junior Championships in 2009.
Since then she has twice won the World and European titles in the 52 kg weight category twice and on Sunday completed her stunning medal collection with Olympic Gold and in doing so handed Kosovo their first ever Olympic medal.
Kelmendi said: "This time I was so focused and I wanted so bad to win. Not just because I was favourite but I wanted to win because of my country. It's the first time that Kosovo is part of the Olympic Games, I really wanted to succeed. I was, on the day of competition, just talking to myself, 'I'm good, I'm strong enough, I can do it', 'I'm the best in the world'. So, yeah, I was enough confident, a little stressed, but I think it was normal."
Kelmendi's historic gold sends message of hope to fledgling Kosovo https://t.co/1vnRWtp795pic.twitter.com/ye1ZnWDxKh

— Dunya News (@DunyaNews) August 8, 2016
Kelmendi had several offers from nation's around the globe looking to add her to their ranks, but the 25-year-old resisted the temptation of a financial windfall and a switch of nationality to compete under the Kosovo flag.
She explained: "I was young but I could see that my country needed to be represented in the world. I knew that I can do it much better and much easier than the other ones in my country. Today I am very happy that this medal is for Kosovo, that this medal did not go in any other country because believe me there are no millions, no money in the world which could make you feel how I feel today. You can have, I don't know, not millions but billions, but that does not mean people will respect you."
Despite being one of the most celebrated judoka's in the world, Kelmendi has kept her feet firmly on the ground and she believes the values of judo have gone a long way in helping her accomplish this.
She said: "It's the kind of sport which [teaches] you to have respect for everything and everybody, when I started judo I changed completely. As a kid I was so quiet and was even afraid to maybe go out in the street. Then I started to do judo and I have a stronger character, I have a stronger personality and as I said before growing up with judo you learn to have respect for everything and everybody. You have good coordination with your body, with your mind. So, if you don't become a champion, at least you do become a great, great person".
Kosovo gained independence from Serbia just eight years ago, and after beating Italy's Odette Giuffrida in the Olympic final on Sunday, Kelmendi has helped put her nation firmly on the sporting map.