Trump goes gunning for Hillary in North Carolina
Comments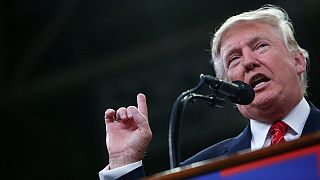 Donald Trump has once again skirted a fine line with his latest jab at Hillary Clinton.
The Republican candidate for the American presidency, campaigning in North Carolina, again suggested his Democrat opponent would take away the citizens' right to bear arms.
"Hillary wants to abolish, essentially abolish, the Second Amendment by the way, and if she gets to pick, If she gets to pick her judges, nothing you can do folks…although the Second Amendment people, maybe there is, I don't know," he said.
And that has got a large section of the US media jumping around wondering if it is not an incitement for angry gun-owners to do more than just write to their congressman.
It also adds the Supreme Court question back into the mix after a week of playing a losing game in the polls, facing a rising tide of Republican party disapproval despite reaffirming orthodox Republican economics on Monday, and even a rival candidate declaring against him.
He again left the rally to the introduction to the Rolling Stones' "You can't always get what you want", despite Keith Richards demand he not use it.