When hosting the Olympics costs you your home
Comments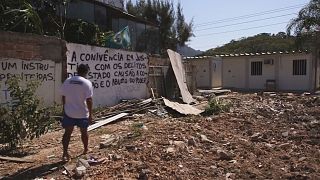 It is being claimed entire neighbourhoods of people were persuaded to move home to make way for Olympics facilities in Rio.
In 2009, 700 families lived in Vila Autodroma, close to the Barra Olympic Park.
The authorities claimed they needed the land to build important infrastructure.
The residents left, the site was cleared and a car park was built.
However, many of the homes have not been demolished and are now derelict.
20 families have taken the authorities to court – and won. Luis Da Silva and his family are among them. The state of Rio de Janeiro have given them new house after their original home was razed to the ground.
"Less than 10 percent of the local community is left. It was a dramatic forced move," he told reporters.
"Many athletes enjoy getting a medal on their chest, but they don't know that families are suffering. That's why we have to let them know this. We were intimidated and threatened!"
With 90% of his neighbours gone, Luiz says he misses his former community.