Ethiopian security forces kill scores of people in weekend of protests
Comments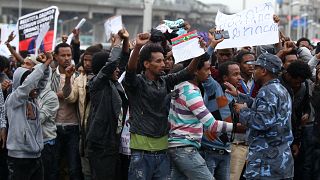 Nearly 100 people have been shot dead by security forces in Oromiya and Amhara in Ethiopia in a weekend of protests against discrimination and land seizures.
In the capital Addis Ababa members of the Oromo and Amhara opposition groups, from the country's two biggest ethnic groups who together form two-thirds of the population, joined in protest against the government.
They called for the freeing from prison of activists detained earlier in the year when unrest in the two regions flared over agricultural land being rezoned for development. The plans have since been dropped.
Human rights groups say the Ethiopian security forces used excessive force and the government has consistently met protests and dissent with violence. Any threat to Ethiopian stability could menace a region where it is seen as an ally against Islamic extremism.