Australia defends Olympic champion Horton over "drugs cheat" comments
Comments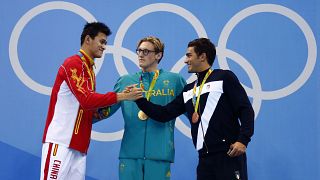 Australia made it clear on Monday there would be no apology to Chinese swimmer Sun Yang after Olympic champion Mack Horton called him a "drugs cheat" at the Rio Games.
The two federations have been locked in a bitter dispute following Horton's remarks – a reference to Sun's secret three-month ban in 2014 for Trimetazidine – both before and after he dethroned Sun in the men's 400 metres freestyle final.
Horton's social media accounts have since been flooded by angry comments from Chinese fans, while the Chinese Swimming Association went a step further to request their Australian counterparts for a formal apology from Horton.
In a defiant move, however, Swimming Australia's Chief Executive Officer Mark Anderson defended Horton and his comments, while the Australian Olympic Committee (AOC) also backed the swimmer with full support.
"Mack is entitled to express a point of view," the AOC said in a statement. "Under the team values 'ASPIRE', the 'E' stands for 'express yourself', that is his right. he has spoken out in support of clean athletes. This is something he feels strongly about an good luck to him."
Horton has been defiantly unapologetic about his comments. After saying he "had no time or respect for drug cheats" before the preliminaries, he again used the frank description in his post-race press conference despite being repeatedly confronted by Chinese reporters.
Elsewhere, some of Sun's other rivals, including Canada's Ryan Cochrane, have also suggested the Chinese swimmer should not have been allowed to defend his titles in the 400 and 1500 metres freestyle from the 2012 Olympics.
"For an athlete that's clean, it's really frustrating," Cochrane said. "Once the Games are over, we'll all look back and wish this was handled better."
Sun said he was prescribed the banned stimulant for heart palpitations and did not know it was on the World Anti-Doping Agency's prohibited list.
He quietly received an incredibly short backdated suspension from FINA, swimming's governing body, which expired in time for him to compete at that summer's Asian Games.
Horton and Australia, meanwhile, has come under heavy fire from China's influential Global Times tabloid newspaper, which made a reference to Australia's history as a penal colony in an editorial column Monday morning.
"It's not a big deal to us. In many serious essays written by Westerners, Australia is mentioned as a country at the fringes of civilization," the column said. "In some cases, they refer to the country's early history as Britain's offshore prison."
"This suggests that no one should be surprised at uncivilized acts emanating from the country. We should think the same way," it added.