Hungary: summer festivals cash in
Comments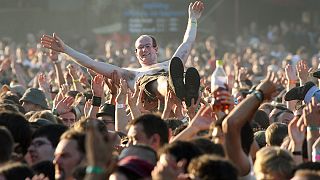 Summer in the country means it's time to make some money with a music festival.
Local businesses, services, producers and farmers indirectly profit from the event

Mayor of Paloznark
Hungary has an every growing number of such events.
Typical is the 'Jazz Picnic' in the village of Paloznark, which has just 500 inhabitants.
Hosting the annual festival brings in as many as 10,000 visitors, boosting the local economy with the equivalent of over 60,000 euros just in ticket sales.
Organiser Szabolocs Homola, who also owns the local vineyard, told us: "We're not backed by a big town or a large budget, nor is there any political or social institution behind us. The money we make comes mostly from ticket sales and the sponsors I invite."
With no industry locally, just agriculture, the tax base is low so the three day festival is a boon for locals who rent out rooms.
The mayor, Ákos Czeglédy, said it is becoming more popular every year and benefits the entire community: "Property prices have increased, and many more people are coming to visit the village. The local businesses, services, producers and farmers indirectly profit from the event. You now have to book accommodation six month in advance."
Money raised has been used to renovate public areas in the village and provide bursaries for local students.
For many rural communities in Hungary such festivals have become their best source of income for the entire year.
Euronews correspondent Beatrix Asboth took a break from listening to the music and sampling the fare to explain: "Smaller towns and villages tend to take their local history and culture as the main theme for their festivals. So there are medieval castle tournaments, goulash cooking and wine tasting celebrations. In Hungary each year there are more than 8,000 such events, and more than a third of these festival get over ten thousand visitors."
Some are much bigger. Hungary's largest is The Island – or Sziget – Festival in August in Budapest which has been going for nearly a quarter of a century. With around 450,000 visitors expected this year it will make well over 30 million euros.