The world needs more forgiveness - Pope Francis
Comments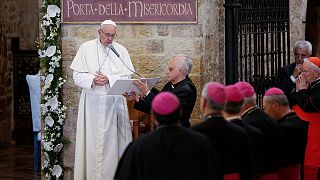 Pope visits Assisi for ceremony
Hears 19 confessions
"The world needs more forgiveness" – Francis
The pope says the world needs more forgiveness as he visited the birthplace of the Franciscan order in Assisi.
Francis made a brief visit to the central Italian town for the 800th anniversary of the "Pardon of Assisi".
The ceremony was inaugurated by St Francis to absolve the sins of the poor.
The 79-year-old pontiff prayed in a small church that his papal namesake had repaired with his own hands in the early 13th century.
He took his name in homage to the saint.
St. Francis was born the son of a prosperous cloth merchant but renounced his wealth to help the poor.
Welcomed by pilgrims
Arriving from Rome via helicopter, the pope was welcomed by thousands of people who had waited in the summer heat to welcome him.
He went into the tiny chapel to pray.
Francis then abandoned the planned programme to hear the confessions of 19 people, including four scouts.
What the Pope said
In his speech, the pope urged the faithful to ask St.Francis to intercede and help them become more forgiving.
He said it was "clearer that the path of forgiveness can truly renew the Church and the world."
"To offer today's world the witness of mercy is a task from which none of us can feel exempted. The world needs forgiveness; too many people are caught up in resentment and harbour hatred, because they are incapable of forgiving."
"They ruin their own lives and the lives of those around them, rather than finding the joy of serenity and peace."
Forgiveness is theme of Pope's visit to Assisi – "The world needs forgiveness," Pope Francis said during a … https://t.co/TNvQNl3Tb6

— Catholic News Live (@cathnewslive) August 4, 2016
Tight security
Security was tight around the pope's brief afternoon trip to the central Italian town.
The visit took place a day after Italian police announced they had increased security around the Vatican and religious sites in Rome.
Police placed a three-ringed security perimeter around the basilica of St Mary of the Angels in the lower part of Assisi.
Thousands of visitors were checked two or three times as they approached the basilica.