Turkey arrests 11 soldiers in connection with Erdogan hotel attack
Comments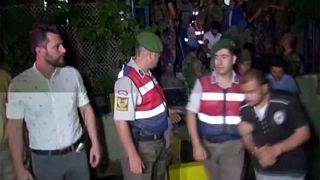 There have been more repercussions after Turkey's failed coup. Reports from Ankara's state-run Anadolu news agency said 11 soldiers have been arrested.
They are suspected to have been part of a group that tried to attack the hotel where President Recep Tayyip Erdogan was staying on the night of the attempted takeover.
Local media reports had said that around 25 soldiers in helicopters descended on a hotel in Marmaris on ropes, shooting, just after Erdogan had left, in an apparent attempt to seize him.
Their capture comes after nearly 1,700 military personnel have been dismissed over their alleged role in the coup attempt.
Another video of attack on Erdogan hotel in Marmaris pic.twitter.com/tUO5zx3aikhttps://t.co/TQ6FWcUQ87https://t.co/nAyzCKwM0X

— John David (@sssbd2009) July 26, 2016
In a move designed to bring the military under tighter control, Erdogan said on Saturday (July 30) that Turkey will shut down its military academies and put the armed forces under the command of the defence minister.
"Our armed forces will be much stronger with the latest decree we are preparing. Our force commanders will report to the defence minister. Our force commanders will be brought under the control of the minister, not the ministry," Erdogan said in a televised interview.
The shake-up comes as Turkey's military is already stretched by violence in the mainly Kurdish southeast, and ISIL attacks on its border with Syria.
Erdogan has declared a state of emergency, allowing him to introduce new laws without approval from parliament.
Rights groups and Western countries fear Erdogan is taking advantage of the failed coup to tighten his grip on power.
New footages have emerged of pro-coup soldiers attacking the hotel where President Erdogan stayed #TurkeyFailedCouppic.twitter.com/uR47f0pVGi

— Failed Coup Facts (@failedcoupfacts) July 28, 2016
EU visa-free travel
And the country's foreign minister said Turkey would back away from a deal with the European Union to stem the flow of migrants to the bloc if the EU does not deliver visa-free travel for Turks.
The European Commissioner said recently visa-free travel would probably not be granted this year due to Ankara's crackdown after the failed military coup.
Turkey Coup Watch CCTV footage of the attack on Erdogan's hotel in Marmaris.#TurkeyCoup#Turkey#TurkeyPurgepic.twitter.com/fBwqJQAHWl

—

TJR

(@TRJourReview) July 25, 2016
Nine more soldiers linked to Erdogan hotel attack captured TRTWorld</a> <a href="https://t.co/YWQrIJgkOA">https://t.co/YWQrIJgkOA</a></p>&mdash; khadija omari (khadijaomari) August 1, 2016