Ancient mass grave site in Greek capital could point to earliest dated event in Athenian history
Comments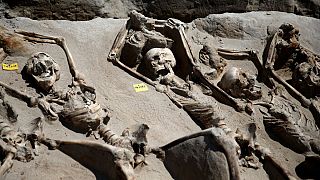 At least 80 skeletons were laid to rest in an ancient Greek burial site in Athens, with their wrists clamped together in iron shackles.
Archaeologists have suggested that they appear be the victims of a mass execution, but their crime remains largely unknown.
There is a certain uniformity to thee way the skeletons unearthed during the excavation have been buried that does not coalesce with the rest of those unearthed at the site.
"They have been executed, all in the same manner. But they have been buried with respect," head of excavations Dr. Stella Chryssoulaki said. 
"They are all tied at the hands with handcuffs and most of them are very very young and in a very good state of health when they were executed."
Potential plotters?
A popular theory is that the bodies are the remains of those caught up in what is commonly referred to as the 'Cylonian Affair' in 632 BC – the earliest reliably dated event in Athenian history.
A failed coup attempt led by the aristocratic Cylon, who plotted to overthrow the Athenian elites with the help of his tyrannical father-in-law, during a period of civil unrest in the ancient society.
Thought to date back to between the 8th and 5th centuries BC, the grave site – which forms part of the enormous Falyron Delta necropolis – is from a time of great social turmoil.
"It was a period of great unrest for Athenian society, a period where aristocrats, nobles, are battling with each other for power," said Chryssoulaki.
Referring to the theory that the skeletons may be the remnants of Cylon's failed coup attempt, Chryssoulaki said that more research will have to be carried out before we can know for certain.
"Perhaps with the DNA tests that we will do on these skeletons we may confirm or not this hypothesis that these deceased, these young people could be … part of a coup … an attempt by a noble to take power by force," she said.
Over 1,500 bodies were buried in the Falyron cemetery.
But unlike the renowned occupants of the Kerameikos cemetery, where many prominent ancient Greeks were laid to rest, the Falyron Delta necropolis appears to be the final resting place of Athens' everyday inhabitants from ordinary backgrounds.