Russian key interest rate unchanged
Comments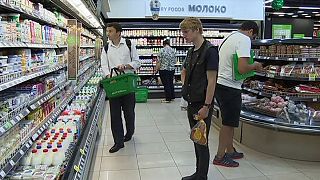 Russia's central bank kept it key interest rate unchanged at 10.5 percent on Friday saying it took the stronger rouble into account with that decision.
It will consider lowering the cost of borrowing in the future given that its main concern – inflation – has slowed substantially to 7.2 percent, though that is partly due to falling consumption.
It had cut rates for the first time in almost a year in June.
Russia's economy has been in a deep slump from low oil prices and Western sanctions over the Ukraine conflict.
A new study has found that more than 40 percent of Russian families continue to struggle to find the money to buy food or clothes
Moscow's Higher School of Economics, which carried out the study, said 23 percent of respondents described their material situation as "bad" or "very bad".