And also... 'Ryanaldo,' a wild boar and much more
Comments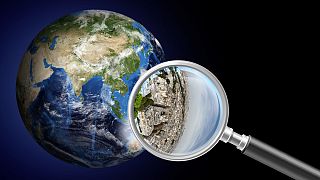 Every Friday journalists from euronews' various language teams choose a selection of stories from Europe and beyond which may not have reached the international headlines
Soaring to new heights? Watch out for 'Ryanaldo'
Football and aviation may not have a lot in common, but low-cost airline Ryanair decided to bridge the gap while paying homage to footballer Cristiano Ronaldo.
The multimillionaire striker is a marketing power, known for his appearances in high-end ad campaigns as much as for his skills on the pitch.
What he will think about his brand being associated with Ryanair has yet to be seen.
In a photo published on Twitter, his image was plastered across one of the airline's planes, along with a pun on both names: 'Ryanaldo.'
Congratulations @Cristiano on your new airport from your favorite airline! pic.twitter.com/SUk7kSKBlW

— Ryanair (@Ryanair) July 27, 2016
No such plane actually exists. It seems the photo was simply a social media stunt.
The airline said it wanted to congratulate the football captain in the wake of Portugal's Euro 2016 win. It came after the regional Government of Madeira, the player's home island, decided its local Funchal airport should be renamed 'Cristiano Ronaldo International Airport.' It's a bold choice that is not without controversy in Portugal.
---
Wild boar sows panic in Poland
A wild boar has caused mayhem among sunbathers on a beach in Karwia, Poland.
It gave people on the beach quite a fright before fleeing into the sand dunes.
---
Submerged floating bridge in Norway
It is not easy to travel from the south to the north of Norway by road. Starting from Kristiansand it takes more than 20 hours to drive along the E39 road running along the west coast. In addition, although spectacular, the fjords pose something of a problems for cars wishing to cross.
To avoid having to rely on costly and slow ferries, Norwegian authorities devised an original concept: a submerged floating tube-shaped bridge!
4km floating tunnel proposed for Norway's Sognefjord https://t.co/X9KqfU2cdGpic.twitter.com/f3XuInhE1P

— DriveEurope (@DriveEurope) July 26, 2016
At generally shallower than two kilometres, the fjords are not deep enough to dig tunnels and bridge construction is considered too costly.
A first site for developing the new infrastructure has been identified: the Sognefjord Fjord.
---
Wolf hunting in Switzerland
Swiss authorities took the unusual decision of placing a target on the back of a wolf in the central canton of Uri.
Officials approved its slaughter after the creature, named M68, killed 50 sheep in a matter of a few months.
M68 aus Italien in Uri: Zum Abschuss freigegebener #Wolf geschossen @chwolforghttps://t.co/8jxIvrji26 via @NZZ

— Donat Agosti (@myrmoteras) July 28, 2016
It was an exceptional course of action, since wolves are a protected species. However, permission is granted when a wolf is known to have killed at least 25 animals in an area in which it has not previously been seen.
The permit to hunt was valid for just 60 days and was given to a small number of hunters and regional wildlife officers.
M68 was shot overnight between July 27 and 28. So nothing to fear for the area's sheep, except a second wolf that was recently spotted…
---
Laid to rest, more than a century after his death
British soldier John Morrison was finally buried on Wednesday (July 27), after he was killed during the First World War.
He was laid to rest in Woburn Abbey, a British war cemetery in the northern French department of Pas-de-Calais. His family, officials and soldiers attended and paid tribute to those who fought in the Great War.
A farmer discovered Morrison's remains in a field in 2014. Identification was possible through a spoon, which had his soldier registration number inscribed on it. He would have been 29 years old in 1915.
The First World War raged between 1914 and 1918. The remains of tens of thousands of soldiers who died during the conflict have still not been found or identified.
---
Sources: