Why are Australians so good at sport?
Comments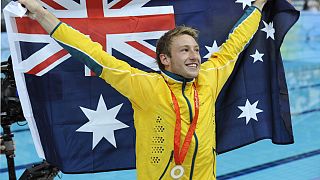 It's easy to talk to most Australians about sport. They like talking about it because they are, on the whole, good at it. At the Olympics, Australia often finds itself in the top five of the medals table, despite its relatively small population of around 22.5 million people. There are fewer than 500,000 Aussies for every Olympic medal the country won in Beijing. For the USA the figure is 2.7 million. Outside of the Olympics, Australians have been world champions at rugby league nine times, rugby union twice and in the 1990s had arguably the most dominant cricket team the world has ever seen. They even have their own sport, Australian Rules Football, to practice among themselves when other countries are having a rest.
But what makes them so good at sport? When asking them this to try to find out, they were only too happy to help. Professor Hans Westerbeek is the Director of the Institute of Sport, Exercise and Active Living at Victoria University. Dutch-born, he emigrated to Australia in 1994 and his enthusiasm for sport is reflected by the fact that he carried out a telephone interview whilst on an exercise bike.
"Australia has for 200 years used sport to identify itself, as it has very little history to ground itself on. Sport in Australia is a means of expression," he says.
This view is shared by sports management specialist Professor David Shilbury of Deakin University in Melbourne, another Australian who was only too happy to help answer questions on sport. "Sport is a major cultural element of Australian life," he said. "Historians would argue it stems from the early years, in a land of open space and a climate suited to outdoor activities. This is an important element. Success on the international stage is important, with Australians taking great pride in the success of their athletes."
But there was a time when Australia was struggling to compete internationally. Action was needed and action was duly taken. When the country's athletes returned from Montreal in 1976 with just one Silver and four Bronze medals to show for their efforts, it was met with something of a press and public backlash. As Prof. Shilbury explains, something needed to be done:
"There was plenty of activity agitating for change prior to the 1976 Montreal Olympic Games. Australia's performance in Montreal only served to reinforce the need for the reviews and action that should follow. In other words, it was already obvious to key sport administrators that Australia's ability to remain competitive on the international stage was waning rapidly, largely due to our amateur sport system, grounded on volunteer efforts, whereas, professional sports systems (and in some cases drugs) were features of other countries efforts to produce elite athletes. The main point of this realization was the role of sport science in athlete preparation, which had not been a focus within the largely amateur culture of Australian sport. The Australian Institute of Sport was created on Australia Day 1981."
This Institute proved to be the turning point. It gave Australian sport a philosophy and the chance to modernise through science. As Prof. Shilbury puts it: "the AIS was a significant cultural signpost that laid out a direction for Australian sport. What followed were state-based institutes of sport, and the evolution of a scientific community within the institute networks and the university sector."
This new research culture was eagerly embraced by the Institute and in the university network, to the point where even the research bodies were competing amongst themselves to be the best at improving Australia's sporting performance.
Sports administrators now had a plan, they had science on their side and they were also given money.
"In terms of absolute investment, Australia is consistently towards the top of the list for federal funding. Also, between 75% and 80% of federal money goes into elite sports. On a state level there is also state money going towards sport. It is also a deliberate policy to target sports that you can win more medals in," explains Prof. Westerbeek. He points to identifying talent as one of the key factors in improving a country's sporting success but rather than simply paying more scouts, Australia again turned to science to help find the swimmers, runners, rowers, cyclists and rugby players of the future. By identifying genetic markers in young sports enthusiasts, it becomes possible to steer talent to where it would be most successful. It's perfectly plausible, Westerbeek says, that somewhere (although he insists not in Australia) within the next 20 years, genetic codes in unborn babies will have been modified to produce, for example, a gymnast or any other specific type of sportsman or sportswoman.
I asked him why governments would go to such lengths, what return they expect from their investment. "That's the question we'd all like the answer to! I think that maybe as a race, humans are competitive. It's survival of the fittest and as we don't have to fight with animals any more, we compete against each other."
Children from Koondrok Primary school cheer with their homemade Olympic flags at Kerang, July 25, 2000 to watch local torchbearer carry the flame
The Australian system is by no means perfect. "Ours is predominantly a club based model, with talent working through the club system," says Prof. Shilbury. "We have had issues with ensuring that Physical Education and sport is actually taught in the (school) curriculum. We have the odd elite sports secondary school, but they are the exception.
"There remains tension between the old and new, and nowhere is that more obvious than through governance of sporting organizations. So, there remains more improvement, with barriers to governance reform in need of removal, and when this occurs we will see a quantum improvement in the sports system generally."
So Australia can still up its game without having to turn to purpose-built Frankenstein sportsbabies. The Australian press, parts of which have already got the knives out in anticipation of a sporting disappointment in London, will be watching the medals table very closely. The reforms that the likes of Prof. Shilbury are calling for may come sooner should Australia suffer a repeat of Montreal.
In any case it would give most Australians a great deal to talk about.