Reporting on terror: drawing the line between wanting and needing to know
Comments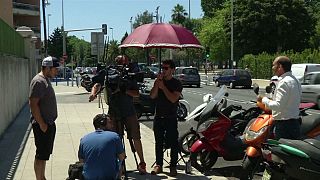 Photos and videos of the recent attacks in France and those suspected of perpetrating them have been continuously featured across Europe's news channels and other media.
Our policy is to show our viewers the reality of our times based on fact.

Euronews
Little is hidden; we see their faces and know their names.
Yet only in the last few days of July, 2016, has the question of anonymity arisen. Debates have sprung up in France, but also in Switzerland, where public television has decided to obscure the faces of the alleged attackers.
In France, a country living through shock and confusion, the topic is a contentious one.
People are talking as much about media's treatment of the attacks as they are about the events themselves.
Should a certain distance be kept? Should everything be made visible?
Public opinion fluctuates between a desire to know and a need for dignity and privacy to take in the shocking events away from the cameras.
Added to this are security concerns and the vehement rejection by French citizens of these acts and their perpetrators.
Is the act of showing these images – however harmless they may seem – a form of vindication?
That's the position adopted by certain French media outlets, notably daily newspaper Le Monde, but also broadcasters such as BFM-TV and Europe 1.
Le Monde declared it would "no longer publish photographs of terrorists to avoid potentially posthumously glorifying them."
BFM took a similar stance, saying it "did not want to give the perpetrators the same importance as the victims of their attacks."
But daily newspaper Le Figaro, insists "publishing neutral and discreet photos of attackers is necessary."
"It all comes down to moderation, attention and good sense," it says.
The director of France Télévision urged caution, saying: "We must resist going down the path of self-censorship, and broad declarations of intent"
Mistakes and apologies
The Superior Audiovisual Council (CSA) keeps a close eye on the French media. BFM was sanctioned for revealing the whereabouts of a hostage during the January 2015 attacks in and around Paris.
Public TV channel France 2 was forced to make an on-air apology following the Nice attack in July 2016, after an interview was aired with a man whose wife had died in the rampage. Her body could be seen lying next to him.
Euronews' stance
Here at euronews, a channel based in France, but with worldwide reach, our stance on the issue is as follows:
"Our policy is to show our viewers worldwide the reality of our times based on facts. The identities and pictures of those who commit attacks in Europe, the Middle East and elsewhere are a fact, they are editorially relevant and therefore they are part of our overall coverage aimed at a global audience.
"We apply a series of editorial guidelines to ensure we neither glorify terrorism nor promote its aims and we do give primary position to the victims of all attacks."