The critical role of education in Europe's refugee crisis
Comments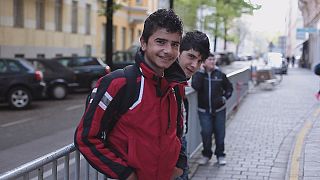 The world is witnessing the biggest refugee crisis since World War ll. Governments are under strain and there are concerns about integration.
Swedish schools are more advanced, the teachers are better. They don't bully you.
How is education playing a role in making displaced people feel at home?
Many refugees endure danger and uncertainty in the hope of a better future. In this episode, we hear the story of 13-year-old Nourollah.
100%! "No child should pay the cost of war & miss out on #education because of conflict." MalalaFund</a> <a href="https://twitter.com/hashtag/NoMoreExcuses?src=hash">#NoMoreExcuses</a> <a href="https://t.co/972U312RJY">https://t.co/972U312RJY</a></p>&mdash; Teach For All (TeachForAll) May 20, 2016
Nourollah made the difficult journey to Sweden where he is starting life, and school, in a completely new community.
Saltsjöbaden, Sweden
In a picturesque seaside village outside of Stockholm, Sweden an Afghan teenager, who only months ago was travelling with the hundreds of thousands of other refugees to northern Europe, is discovering what it takes to be thrust into a new education system in one of the worlds most advanced countries.
What is it like to be back in the classroom and adapting to a new culture after months on a treacherous journey? Watch this episode to find out.
Vienna, Austria
Refugee children face big hurdles but so do the teachers that play such an important role in their education and integration. What specific training or skills do they need to prepare for these complex situations?
It is widely accepted that education for refugee children and young people contributes to long-term solutions for Europe's refugee crisis: what's more, only education can ensure that displaced generations are equipped to rebuild their lives and communities – either in the country of asylum, upon their return home or on resettlement to another country.
In order to understand how teachers cope with this issue, Learning World went to Vienna, Austria to take a look at how Teach for Austria, a local branch of the global Teach for All movement fighting for equal education works.
YOU are part of a large & growing, global network. THANKYOU!https://t.co/PebWdSZiqQ

— Teach For All (@TeachForAll) February 18, 2016