[video] Siberian tiger kills woman at Beijing wildilfe park
Comments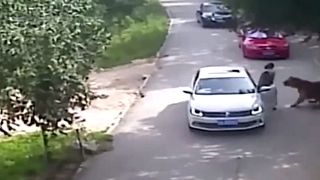 A woman was killed when she was mauled to death by a Siberian tiger.
It is believed she came to the aid of a family member, who was being attacked by another tiger at Badaling Wildlife World in Beijing, China.
Sources say the pair were having an argument, which resulted with one woman getting out of the car.
The first woman, who in the video was the first to be mauled, is being treated at a hospital in Beijing. The second, who chased after her relative, was killed at scene by another tiger.
Park rangers rushed to help but were only able to help the first victim.
The wildlife park was closed down for two days after the incident.
A security guard is said to have been mauled to death by a tiger at the park two years ago.