Israel slammed for impeachment law dubbed 'anti-Arab' by critics
Comments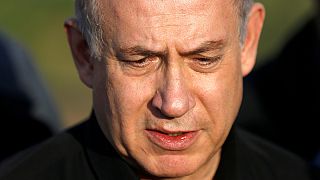 Feelings are running high after Israel's parliament passed a law giving members the right to impeach fellow MPs for incitement to violence, racism, or support for armed struggle against the state.
Critics dub the legislation 'anti-Arab', saying that it is clearly aimed at Arab members who have met families of some of the Palestinians killed in a recent surge of street attacks on Israelis.
Israeli-Arab MP Ayman Odeh claims Prime Minister Benjamin Netanyahu has a strategy of incitement against the Arab minority.
"That is the reason why he raised the election threshold… and also for this 'ousting' legislation – because he is scared of our impact," he said.
"We make up 20 percent of the population. If we become legitimate in the country, he will not remain prime minister and the right wing will no longer rule the country."
But for the government, it's a matter of self-defence.
Israeli MP and Cabinet Minister Ze'ev Elkin said: "A law, which exists in other countries too, has been passed to allow the Knesset, under a broad consensus, to say 'that's it'. It can't go on that members of the Israeli parliament can openly support terror, as opposed to the obligations they made in the election. The Israeli public and political system will no longer accept this."
The government is satisfied the law has been passed.
Benjamin Netanyahu said the new law ended "the absurd situation" whereby someone who "supports terror against the State of Israel and its citizens" could serve as a member of parliament.
But the bill is also seen by campaigners as the latest example of legislation promoted by Netanyahu's right-wing government attempting to curb freedom of speech.
"This is one of the most serious legislative proposals in recent years and it harms the very building blocks of democracy – the right to freedom of expression, the right to vote and to be elected, and the right to representation," said Debbie Gilad-Hayo of the Association of Civil Rights in Israel.
"Arab (lawmakers) whose actions and remarks do not find favour with the political majority will be the first people harmed by the bill – however, it is a slippery slope and the bill has potential to affect all," she said in a statement.
The law however may be largely symbolic, given that three quarters of members in the ever-fractious Knesset would be needed to vote through any impeachment motion.