360° video: last hours of Pamplona's San Fermin festival
Comments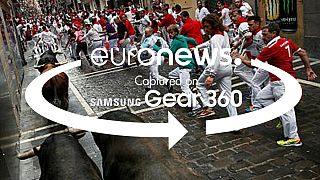 Thousands of runners travel from all over the world to Pamplona, Spain, for the San Fermín festival, held annually from July 6 to July 14.
Running of the bulls
There, they hope to take part in the 875-metre race, called an "encierro", in which white-shirted, red scarved runners are chased by specially-bred fighting bulls through the narrow streets of the medieval city.
Before the race, participants ask for the benediction of San Fermin by singing in front of a small statue of the saint: "We ask San Fermin to be our patron saint and to guide us in the running of the bulls, giving us his blessing."
There are other activities, such as parades with music, dancing "gigantes y cabezudos" which are giant figures built in 1860, fireworks, and concerts.
On the last day of the festival, people gather in front of Pamplona's city hall, and at midnight they start to sing the "Pobre de mí" song. This traditional chant marks the end of the San Fermin festivities. Its lyrics are "Poor me, poor me, the San Fermin festivities are over".
This year's festival left a total of 11 runners gored, with the worst day being July 8 when six people were caught on the horns of the half-tonne animals, although there were no fatalities. In total, 67 people were injured, compared to 37 in 2016.
Sixteen complaints for sexual assault and rape have also been filed.
Video: Rafa Cereceda