Republicans play down apparent 'plagiarism gaffe'
Comments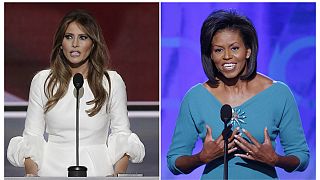 The plagiarism accusation over Melania Trump's speech spilled over onto day two of the Republican Convention.
The impression that Mrs Trump's writers had copied and pasted chunks of one given by Michelle Obama provided many a talking point.
Anita McBride who is the former chief of staff of First Lady Laura Bush implied someone had been careless:
"This is what happens when there is no infrastructure, nobody is paying attention to just the natural, normal vetting you would do on a big speech. I bet this is a mistake they'll never make again."
Statement on Melania Trump Speech pic.twitter.com/80KgS0jxXz

—

MELANIA

TRUMP

(@MELANIATRUMP) July 19, 2016
The Trump team has been denying everything and playing down any embarrassment while among convention delegates there was a mixed reaction.
"Much ado about nothing. It distracts from the real issue. I think it's a red herring," – said one party faithful.
"I think the only way to handle something when you have a controversy like this is just come out with the truth right away and melt it," said another.
However one delegate was more insistent that the Trump team can't afford too many mistakes:
"My council to Team Trump would be: fix the problem. It's an amateur's mistake. The Trump campaign has been going for only about a year. This is their first foray into politics at this level."
"If you're too inept to run a presidential campaign, you're too inept to run a country." #RollCallhttps://t.co/NJqatkBPSI

— Donny Schell (@dgschell) July 19, 2016
Correspondent Stefan Grobe said:
"Ironically, the Trump campaign borrowed from the hated Obamas and not, for example, from Ann Romney, the wife of the past Republican candidate. Maybe they just thought: do it like Obama – and win!"