Pokémon Go players warned of triggering landmines
Comments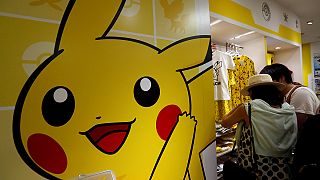 The slogan of the hit Pokémon Go mobile game is 'you've got to catch them all', but for players in Bosnia, it might be worth adding '..except where there are landmines'.
Bosnian demining charity, Posavina bez mina, has warned fans of the game to be vigilant when tracking down Pokémon in the country, following reports that people were wandering into areas littered with landmines leftover from the Bosnian War in the early nineties.
The game uses augmented reality software that makes digital creatures appear in 'reality' when viewed through the lens of a smartphone camera.
Users then aim to 'catch' these digital creatures, which once in possession, they can battle and trade with other players to increase their individual ranking as a Pokémon master.
Just over two weeks since its release, Pokémon Go has become one of the most successful mobile games of all time, with downloads in the tens of millions across various platforms.
Due to its resounding success and sheer volume of players, there have been incidents of varying severity, ranging from the plain to silly to outright tragic.
New Zealand man quit his job to play the game full time:
Tom Currie from New Zealand left his job to become a full-time Pokemon trainer: https://t.co/vqXxQbeooFpic.twitter.com/eUcULTok1y

— Newstalk (@NewstalkFM) July 19, 2016
24-year-old Tom Currie quit his job working at an Auckland restaurant to "live [the] dream", and will dedicate the next two months of his life playing the game full-time.
"My dad sent through a text message saying he always knew I would be famous," Currie told the BBC.
UK driver fined for playing at the wheel:
A 27-year-old Birmingham man was stopped by police for playing the hit game while driving down a busy motorway. "He was issued a fixed penalty notice ticket and has been reported to the traffic process office," a police statement said.
Also in the UK..
A woman called the emergency service 999 number to report that someone had stolen her Pikachu. The audio speaks for itself – it's a real face-palm moment.
Sydney gamers mugged while hunting for Pokemon:
More serious are the spate of crimes related to the game. Two Australian Pokémon Go players were mugged at gunpoint while playing at a New South Wales park at night.
Allegedly two men wearing balaclavas jumped out of a flatbed truck with guns, but fled empty handed. They didn't even get a Pikachu.
American teen shot and killed for trespassing while hunting for a Pokemon:
This is where the poke-tales take a dark turn. The National Report reports that 15-year-old Arthur Digsby from North Carolina left his house with a friend when they spotted a rare Pokémon on private property. Hunting around the garden to make the creature appear, they startled the elderly occupant, who shot the teen twice with a 9mm pistol.
It's incidents similar to the latter Posavina bez mina are trying to avoid, in a country where at least 600 people have been killed in landmine accidents since the end of the Bosnian War in 1995.
"We received information that some users of the Pokémon Go app in Bosnia were going to places which are a risk for mines, in search of a Pokémon," Posavina bez mina wrote on Facebook.
Adding "citizens are urged not to do so, to respect demarcation signs of dangerous minefields and not to go into unknown areas".
About 120,000 mines remain undiscovered, a Bosnian demining group estimates.
An estimated 2.3% of the former Yugoslav republic's territory is covered with unexploded mines and similar explosive devices.
Some 550,000 people – 15% of the population – live close to the areas believed to be contaminated.