Turkey's tourism faces new threat from coup attempt
Comments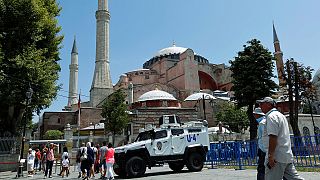 The fallout from Turkey's failed coup attempt is likely to further undermine the country's tourism industry.
It has already been hit by repeated suicide bombings over the past year, including one in June that killed 45 people at Istanbul's main air transport hub Ataturk Airport.
Extra security checks and the removal of tanks at Istanbul's International Sabiha Gokcen Airport caused difficulties for travellers over the weekend.
Turkish Airlines and the country's airport operator TAV led a fall in tourism related shares on the Istanbul stock exchange on Monday.
The Turkish flag carrier is particularly vulnerable to an order from the US Federal Aviation Administration that prohibits all airlines from flying between Turkey and the United States until September 1, though that will be reviewed.
Tourism is vital to the Turkish economy and the industry employs around eight percent of the work force.
Even before the coup attempt visitor numbers were falling – down 10 percent in the first three months of this year.
#Turkey's military #coup ruins already declining #tourism industry https://t.co/199RDxL8EB#countrybrandingpic.twitter.com/j4A80lqJOR

— CountryBranding (@CountryBranding) July 18, 2016
Market research company Euromonitor predicts that international arrivals to Turkey will drop to 32.9 million this year, from 34.7 million in 2015 and a peak of more than 35 million in 2014.
Holiday rentals website Tripping.com said that searches for accommodation in Turkey dropped 37 percent last weekend compared with the previous weekend.
Flights resume
Turkey is particularly popular with Germans, with an estimated 200,000 currently there on holiday.
Airlines Lufthansa and German based tour operators Thomas Cook and TUI have now resumed flights from Germany to Turkey.
A spokesman for Thomas Cook said: "On Saturday and Sunday, the planes took off for Turkey, only a few guests did not take their flight."
A spokeswoman for TUI Deutschland said flights had resumed and of the 18,000 people currently on holiday in Turkey, only 30 had opted to come back early. Most German tourists are staying in and around Antalya. "It is a normal Sunday for us," she said.
Other airlines, including British Airways, Etihad, Qatar and Eurowings, were also flying in and out of Turkey though said they would continue to review those services.
Business confidence is also vulnerable to the effects of the coup attempt. Bank share fell in Istanbul, though the Turkish lira regained value on Monday after slumping against other currencies immediately after the coup attempt.
See also:Tourism: the cost of terrorism
Tourism & fear of trouble. Simon Calder on traveling abroad after the Nice attack and failed Turkey coup https://t.co/lC6IV43iRZ

— AirportWatch (@AirportWatch) July 17, 2016
Russians have accounted for one of the largest pro portions of tourists to Turkey, according to Euromonitor data. https://t.co/FYGrBP98R0

— Victoria Dele (@Victoria_Dele) July 19, 2016