Turkey coup attempt: what happened
Comments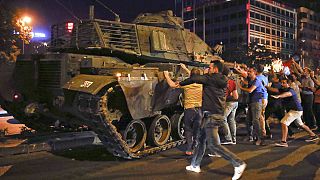 Soldiers on the streets
The first signs of the plot were when soldiers moved onto two key positions in Istanbul, blocking traffic on the Bosphorus Bridge and Fatih Sultan Mehmet Bridge around 19:30 local time on Friday.
Helicopters and fighter jets fly low over the city as well as the capital Ankara.
Battle over the media
Prime Minister Binali Yildirim confirms the situation when he declares that an illegal attempt to overthrow the government is underway, backed by a part of the military.
A few minutes later, the plotters respond, issuing a statement broadcast on TV channels informing the public that they are defending freedom and democracy which had been eroded by the ruling AK Party.
At this stage, the whereabouts of President Ergogan were unclear, although media reported he was safe.
Social media are blocked and television stations are occupied by soldiers.
Just before 21:30, the president appears on CNN Turk on an iPhone video call. Speaking from a phone held up by the presenter, Erdogan calls on the public to take to the streets to thwart the soldiers. The coup attempt, he insists, will be overcome.
Battles in the cities
Explosions are heard in Ankara and a helicopter seen firing on a building.
Gunfire erupts at Istanbul airport and explosions shake the Turkish parliament building and other locations.
Around 23:00 it starts to become clear that the coup is failing as senior military figures condemn the plot and dismiss its threat.
Thousands of people take to the streets to support the government.
A helicopter used by the plotters is shot down by a fighter jet over Ankara and sporadic fighting continues.
Erdogan arrives in Ankara
The White House confirms its support for the elected government before Er¨dogan's plane touches down at Istanbul airport. He is greeted by rapturous crowds.
Groups of soldiers are now starting to surrender and taken into custody.
By morning, more than 1,500 members of the military have been arrested and the death toll is put at around 100.