Who made the most money from Euro 2016?
Comments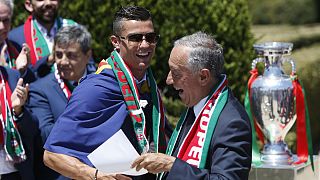 With the Euro 2016 Championships over it's time to calculate who benefited most financially.
The French fans weren't celebrating at the end of tournament and neither was the French government.
Initial indications are that – compared with the 1998 World Cup – the host country's economy didn't benefit that much and UEFA, which got a record two billion euros in revenue, received an exemption from paying tax in France.
The Portuguese Institute of Marketing Management in Lisbon reckons the national side's participation and victory boosted the country's economy to the tune of 609 million euros, everything from people buying new televisions to food and drink sales and air travel by fans going to France.
All the teams got eight million euros for taking part and then additional money on a sliding scale for wins and draws.
Winners Portugal received 25.5 million euros and each of the players finished up with 250,000 euros from their federation.
Runners up France got 23.5 million euros, semifinalists Germany took home 18.5 million euros.
Wales and Iceland, who were expected to go home early, ended up with 18 million and 14 million euros respectively.
The official sponsors of Portugal's national football team gained around 117 million euros according to research by marketing company Cision. It calculated the worth of the exposure that the sponsor brands achieved based on what they would have had to pay for that same exposure through buying adverts.