Obama condemns deadly Dallas police shootings
Comments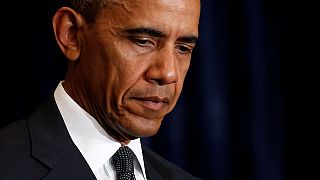 US President Barack Obama has reacted to the deadly shootings in Dallas during a two-day NATO summit in the Polish capital Warsaw.
Describing the events as a ''tremendous tragedy'' and the wrenching reminder of the sacrifices police officers make, Obama once again raised the issue automatic weapons in the US and their easy availability to the public.
''Even as yesterday I spoke about our need to be concerned as all Americans about racial disparities in our justice system, I also said yesterday that our police have an extraordinarily difficult job and the vast majority of them do their job in outstanding fashion. I also indicated the degree to which we need to be supportive of those officers who do their job each and every day, protecting us and protecting our communities. Today is a wrenching reminder of the sacrifices that they make for us. We also know that when people are armed with powerful weapons, unfortunately it makes attacks like these more deadly and more tragic.''
Obama also said he had spoken with Dallas Mayor Mike Rawlings to extend his condolences and offer support after snipers shot dead five police officers and wounded six others in a coordinated attack in the Texan city.