Bitter row threatens unity of the AFD - Alternative for Germany political party
Comments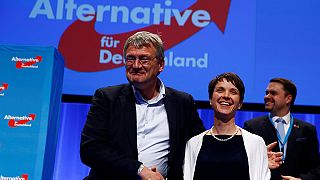 Climbing political mountains. That's been the case for the German AFD party (Alternative for Germany) in the last three years. But will a united party be raising a glass or two in the future?
It faces a split over anti-Semitic remarks which could see the party disintegrate. It comes after the AFD inflicted serious losses on Chancellor Angela Merkel earlier this year.
In the federal state Baden-Württemberg an AFD member had to step down. Wolfgang Gedeon claimed denial of the Holocaust was a legitimate expression of opinion.
That is a crime in Germany. But his departure couldn't prevent the AFD-parliamentary group in the regional parliament from breaking up.
"The issue to me is about content. The position is: there is no room for extremist, racist or anti-Semitic positions in this party. Last night, 13 people sent a signal and this must be the directive. If a lot of people follow this they are more than welcome," Jorg Meuthen the former leader of the AFD parliamentary group, Baden-Württemberg told reporters.
Jörg Meuthen has left the parliamentary group with more than half of its MPs in the regional parliament. He immediately founded a new one with almost the same name – Alternative for Baden Württemberg.
As that happened the leader of the national AFD party, Frauke Petry was trying to put the brakes on a split and protect the party's unity.
"We expect further talks with the deputies scattered around this entire building right now who are in discussions. This is the AFD parliamentary group in Baden-Wuerttemberg," she explained at a press conference as discussion were on-going.
Two adversarial parliamentary groups and two political enemies are now facing each other, because Meuthen's split is seen by many as as a declaration of war on Petry.
Analysts say that behind the dispute lies an increasingly bitter power struggle for control of the party. The row is rocking the whole AFD and has rumbled on for months. It has left Petry more and more isolated.
AFD was founded as a Eurosceptic protest party and has seen its popularity rise significantly during Europe's refugee crisis. It has since openly adopted an anti-Muslim agenda.
But so far the internal power struggle has not tarnished the party's image or support with voters. It is running at 14.5 percent in the national opinion polls.