NATO: Defence is a platform for engaging in dialogue with Russia
Comments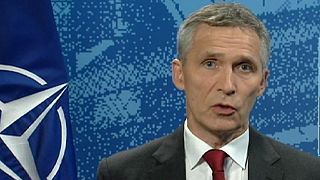 NATO was once considered a relic of the Cold War, but now it is once again having to confront Russia which invaded eastern Ukraine in 2014 and annexed the Crimean Peninsula. To discuss the challenges, both old and new, facing the alliance we talked with NATO's Secretary General Jens Stoltenberg.
We don't want a new arms race, so therefore we continue to strive for more political dialogue with Russia

NATO Secretary General
Isabelle Kumar: What is the main takeaway achievement that you want to be leaving with after that summit in Warsaw?
Jens Stoltenberg: "The main message is that NATO is adapting to a new and more challenging security environment, to a more dangerous world, and we are doing so by reinforcing our collective defences in Europe but also working more with partners in the Middle East, and North Africa, to help them stabilize their own countries, if they are more stable, we are more secure."
---
Biography: Jens Stoltenberg
Jens Stoltenberg is the 13th Secretary General of

NATO

He served twice as Prime Minister of Norway (2000-2001 and 2005-2013)
He holds a postgraduate degree in Economics from the University of Oslo
The Secretary General was born in Oslo, Norway on 16 March 1959
---
Isabelle Kumar: OK, we will be looking at some of those issues, but as you have said yourself in the past, we all facing a very uncertain picture globally. That was just exacerbated by Britain's decision to leave the European Union, and before that referendum – and I'll quote you here – you said 'a strong UK in a strong Europe is good for the UK and it is good for NATO.' It seems that we have neither. So what does that add up to?
Jens Stoltenberg: "The UK decision to leave the European Union of course changes the UK's relationship with the European Union, but it does not change UK's position inside NATO. The UK will continue to be a strong and committed ally in the alliance and that is important because UK accounts for around one quarter of defence spending among European NATO allies and therefore this is important that they will continue as a strong ally inside the Alliance and we will continue to develop our cooperation with the European Union, that is one of the main things we will address at our summit in Warsaw."
Isabelle Kumar: Well exactly, because you are kind of setting up an EU-NATO pact, but without Britain in that – Britain possibly is a separate entity because we don't know really how things are going to shape up – you're going to be faced with an EU which is weak and needy. Most possibly. So, not really the kind of partner you want.
Jens Stoltenberg: "The EU will not be weak. The EU will continue to be important for the whole of Europe. We face the same challenges and the same threats, but neither the European Union nor NATO possesses all the answers, all the tools, but together we can provide a very comprehensive answer to the challenges we see around Europe today."
Isabelle Kumar: Well, one of the other top issues obviously when you are going to be meeting in Warsaw is Russia, NATO has enacted some of its biggest war games ever in Poland and you're hoping to send four battalions to NATO's eastern flank. But what message are you trying to send to Russia and do you think Russia is necessarily daunted by that?
«I seek your counsel,» Breedlove wrote to Powell, «how to frame this opportunity when all eyes are on ISIL»? https://t.co/1wIBC0P9PN

— Audun Lindholm (@audunlindholm) 1 juillet 2016
Jens Stoltenberg: "Our message is that we are ready to defend all allies and that an attack on one ally would be an attack on the whole alliance. And this is deterrence, this is defence, and this is also important for stability in Europe, that NATO continues to be strong when it comes to deterrence and defence. NATO does not seek confrontation, we don't want a new cold war, we don't want a new arms race, so therefore we continue to strive for more political dialogue with Russia, to reduce tensions and to develop a better relationship."
Once thought to be outmanned and outgunned by NATO, Russia is now seen by many as a superior military force: https://t.co/Z0Ovu3XTcz

— Foreign Affairs (@ForeignAffairs) 5 juillet 2016
Isabelle Kumar: OK, you're saying you don't want to escalate confrontation, inflame tensions, but you're obviously aware that the German Foreign Minister saw it very differently, he accused you of "warmongering, of sabre-rattling" with this increased military activity. What do you say to that?
Jens Stoltenberg: "All 28 NATO allies have agreed on the decisions we have made, both when it comes to strengthening our military presence in the eastern part of the alliance, more exercises, NATO is taking part in those exercises and I welcome that.
But also the 28 allies have agreed on the importance of continuing to strive for more political dialogue, cooperation with Russia. And Germany has been lead on both, has been a lead nation on both tracks. And there is no contradiction between strong defence and dialogue, actually we need defence as a platform for engaging in political dialogue with Russia."
Isabelle Kumar: And with so many resources now focused on Russia, does that mean that there will be less therefore for the South, for example the migration crisis, will NATO be able to take a leading role on migration, or will you have to continue taking a back seat on that?
Jens Stoltenberg: "Well, NATO doesn't have the luxury of choosing either to address the threats and the challenges we see from the south and the challenges we see stemming from the east, we have to address both in the same time. And therefore NATO is doing a lot to try to stabilize also our southern neighbourhood. We have increased our presence in Turkey, the NATO ally most affected by the turmoil, the fighting in Iraq, Syria. We continue to be present in Afghanistan, our biggest mission ever, and we have started to train Iraqi officers, enabling them to strengthen Iraq's capabilities to fight terrorism to stabilize their own country.
And all of this is important to address the root causes of the migrant and the refugee crisis we see in Europe, helping countries in the region to stabilize their own countries.
NATO has also played a role in the migrant, the refugee crisis in Europe, by deploying ships to the Aegean Sea, working together with the European Union and contributing to the efforts which has led to a significant reduction of the illegal crossings over the Aegean from several thousands a day to close to zero. And NATO has been part of all those efforts with our maritime presence in the Aegean Sea."
Isabelle Kumar: Your critics will argue that you've been very slow in adapting to the terrorist crisis, that NATO has difficulty facing up to asymmetric warfare.
Jens Stoltenberg: "What NATO is doing is that we are addressing the root causes by our presence in Afghanistan, our training of Iraqi forces, our presence in Jordan, in Tunisia, and also of course our presence in Turkey, bordering the turmoil and the instability in Iraq and Syria. And then we are also supporting the coalition fighting ISIL, so this is partly about military efforts, NATO's playing a key role, but also civilian efforts, where the European Union and others are playing the leading role."