Amnesty International accuses Syrian opposition groups of human rights abuses
Comments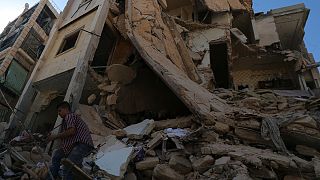 What is Amnesty saying?
Amnesty International has accused a number of prominent opposition groups in Syria of human rights abuses.
The rights watchdog says the alleged abuse was committed over four years by the members of five armed organisations.
The group says that, while government forces have been responsible for the majority of violations in the conflict in Syria, the situation in Aleppo and Idlib shows what happens when armed opposition groups gain territorial control and set up quasi-judicial institutions.
"The evidence"
Amnesty says interviews with 70 people living and working in Idlib and Aleppo uncovered claims of:
24 cases of abductions between 2012-2015
Allegations of summary executions of civilians
Five allegations of torture

"A chilling wave"
The human rights watchdog has published the report: 'Torture was my punishment':Abductions, torture and summary killings under armed group rule in Aleppo and Idlib.'
It describes the findings as "chilling".
"Armed groups responsible"
London-based Amnesty says armed groups operating in the areas of Aleppo and Idlib are responsible.
"In Aleppo and Idlib today, armed groups have a free hand and total impunity to commit war crimes and other violations of international humanitarian law," Amnesty says in the report.
Philip Luther, Director of the Middle East and North Africa Programme, Amnesty International lists the groups as:
Noureddine Zinki
The al-Chamia Front
Division 16
Ahrar al-Cham
The al-Nusra Front
What are Amnesty calling for?
Amnesty wants the international community to use its influence on the groups implicated in the report.
The group is calling on the principle governments who are part of the International Syrian Support Group (ISSG) to "end the transfer of arms and all other support for the groups implicated in allegations of war crimes and other blantant violations."
They are: the US, Qatar, Turkey and Saudi Arabia.
The conflict in Syria
Began in 2011
At least 280,000 estimated dead
Millions displaced both internally and internationally
What they are saying
"This briefing exposes the distressing reality for civilians living under the control of some of the armed opposition groups in Aleppo, Idlib and surrounding areas. Many civilians live in constant fear of being abducted if they criticise the conduct of armed groups in power or fail to abide by the strict rules that some have imposed," – Philip Luther, Director of the MENA programme, Amnesty International.
"A guard made me lift my feet up in a perpendicular position, he began to whip the soles of my feet with cable. I could not stand the pain so I signed their document," – Halim, 24-year-old humanitarian worker who told Amnesty he was captured by militants and forced to sign "confessions" under torture.